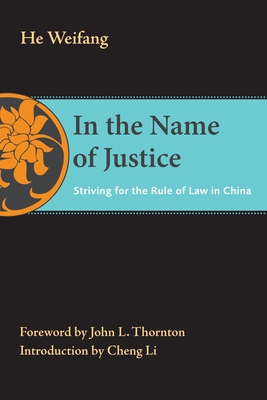 In the Name of Justice (Hardcover)
Striving for the Rule of Law in China
Brookings Institution Press, 9780815722908, 269pp.
Publication Date: November 5, 2012
Other Editions of This Title:
Paperback (11/5/2012)
* Individual store prices may vary.
Description
Of all the issues presented by China's ongoing economic and sociopolitical transformation, none may ultimately prove as consequential as the development of the Chinese legal system. Even as public demand for the rule of law grows, the Chinese Communist Party still interferes in legal affairs and continues in its harsh treatment of human rights lawyers and activists. Both the frequent occurrences of social unrest in recent years and the growing tension between China's various interest groups underline the urgency of developing a sound and sustainable legal system. As one of China's most influential law professors, He Weifang has been at the forefront of the country's treacherous path toward justice and judicial independence for over a decade. Among his many remarkable endeavors was a successful petition in 2003 that abolished China's controversial regulations permitting the internment and deportation of urban "vagrants," bringing to an end two decades of legal discrimination against migrant workers. His bold remarks at the famous New Western Hills Symposium in 2006, including his assertion that "China's party-state structure violates the PRC Constitution," are considered a watershed moment in the century-long movement for a constitutional China. With In the Name of Justice, He presents his critical assessment of the state of Chinese legal reform. In addition to a selection of his academic writings, this unique book also includes many of He Weifang's public speeches, media interviews, and open letters, providing additional insight into his dual roles as thinker and practitioner in the Chinese legal world. Among the topics covered are judicial independence, judicial review, legal education, capital punishment, and the legal protection of free speech and human rights. The volume also offers a historical review of the evolution of Chinese traditional legal thought, enhanced by cross-country comparisons. A proponent of reform rather than revolution, He believes only true constitutionalism can guarantee social justice and enduring stability for China. "He Weifang has argued for two decades that rule of law, however inconvenient at times to some of those who govern, must be embraced because it is ultimately the most reliable protector of the interests of the country, of the average citizen, and, in fact, even of those who govern."--from the Foreword by John L. Thornton, chairman, Brookings Institution Board of Trustees and Professor and Director of Global Leadership at Tsinghua University "What struck me--and shocked me as a foreign visitor--was not only that the entire discussion was explicitly critical of the Chinese Communist Party for its resistance to any meaningful judicial reform, but also that the atmosphere was calm, reasonable, and marked by a sense of humor and sophistication in the expression of ideas."--from the Introduction by Cheng Li, director of research and senior fellow at the John L. Thornton China Center at Brookings.
About the Author
He Weifang, one of China's most influential public intellectuals, is a professor of law at Peking University in Beijing. In 2011 he was named by "Foreign Policy" as one of its top 100 global thinkers.Cheng Li, a senior fellow and director of research in the John L. Thornton China Center at Brookings, is editor of "China's Emerging Middle Class "(Brookings, 2010).John L. Thornton is chairman of the board of trustees at the Brookings Institution and professor and director of global leadership at Tsinghua University.
or
Not Currently Available for Direct Purchase