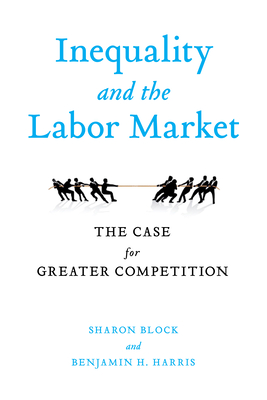 Inequality and the Labor Market
The Case for Greater Competition
Paperback

* Individual store prices may vary.
Description
Exploring a new agenda to improve outcomes for American workers
As the United States continues to struggle with the impact of the devastating COVID-19 recession, policymakers have an opportunity to redress the competition problems in our labor markets. Making the right policy choices, however, requires a deep understanding of long-term, multidimensional problems. That will be solved only by looking to the failures and unrealized opportunities in anti-trust and labor law.
For decades, competition in the U.S. labor market has declined, with the result that American workers have experienced slow wage growth and diminishing job quality. While sluggish productivity growth, rising globalization, and declining union representation are traditionally cited as factors for this historic imbalance in economic power, weak competition in the labor market is increasingly being recognized as a factor as well.
This book by noted experts frames the legal and economic consequences of this imbalance and presents a series of urgently needed reforms of both labor and anti-trust laws to improve outcomes for American workers. These include higher wages, safer workplaces, increased ability to report labor violations, greater mobility, more opportunities for workers to build power, and overall better labor protections.
Inequality and the Labor Market will interest anyone who cares about building a progressive economic agenda or who has a marked interest in labor policy. It also will appeal to anyone hoping to influence or anticipate the much-needed progressive agenda for the United States. The book's unusual scope provides prescriptions that, as Nobel Laureate Joseph Stiglitz notes in the introduction, map a path for rebalancing power, not just in our economy but in our democracy.
Brookings Institution Press, 9780815738800, 261pp.
Publication Date: April 6, 2021
About the Author
Sharon Block is the former executive director of the Labor and Worklife Program at Harvard Law School, where she also teaches. Before coming to Harvard, she served eight years in the Obama administration in senior positions at the Department of Labor, the National Labor Relations Board, and the White House. Prior to the Obama administration, she served as Senior Labor and Employment Counsel for Senator Edward Kennedy on the Health, Education, Labor and Pensions Committee. She currently serves as the Associate Administrator, Office of Information and Regulatory Affairs, Office of Management and Budget.Benjamin H. Harris is a counselor to the U.S. Treasury Secretary. He previously served as the chief economist with Results for America, the executive director of the Kellogg Public-Private Initiative at the Kellogg School of Management, and chief economist to Vice President Joe Biden in the Obama White House.