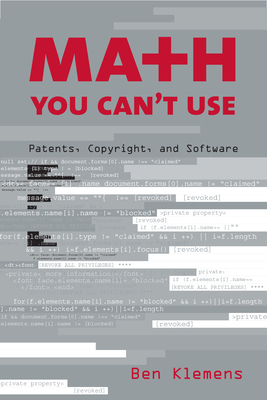 Math You Can't Use
Patents, Copyright, and Software
Hardcover

* Individual store prices may vary.
Other Editions of This Title:
Paperback (11/28/2005)
Description
This lively and innovative book is about computer code and the legal controls and restrictions on those who write it. The widespread use of personal computers and the Internet have made it possible to release new data or tools instantaneously to virtually the entire world. However, while the digital revolution allows quick and extensive use of these intellectual properties, it also means that their developers face new challenges in retaining their rights as creators. Drawing on a host of examples, Ben Klemens describes and analyzes the intellectual property issues involved in the development of computer software. He focuses on software patents because of their powerful effect on the software market, but he also provides an extensive discussion of how traditional copyright laws can be applied to code. The book concludes with a discussion of recommendations to ease the constraints on software development. This is the first book to confront these problems with serious policy solutions. It is sure to become the standard reference for software developers, those concerned with intellectual property issues, and for policymakers seeking direction. It is critical that public policy on these issues facilitates progress rather than hindering it. There is too much at stake.
Brookings Institution Press, 9780815749424, 181pp.
Publication Date: July 1, 2005
About the Author
Ben Klemens is a guest scholar at the Center on Social and Economic Dynamics at the Brookings Institution, where he writes programs to perform quantitative analyses and policy-oriented simulations. He also consults for the World Bank on intellectual property in the developing world and computer-based simulations of immigration policy.