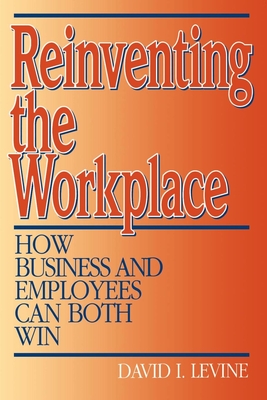 Reinventing the Workplace: How Business and Employees Can Both Win (Paperback)
How Business and Employees Can Both Win
Brookings Institution Press, 9780815752318, 242pp.
Publication Date: February 1, 1995
Description
What is the future shape of the American workplace? This question is the focus of a national debate as the country strives to find a system that provides a good standard of living for workers while allowing U.S. businesses to succeed at home and compete abroad. In this book, David Levine uses case studies and extensive evidence to show that greater employee involvement in the workplace can significantly increase both productivity and worker satisfaction. Employee involvement has many labels, including high-performance workplaces, continuous improvement, or total quality management. The strongest underlying theme is that frontline employees who are actually performing the work will always have insights about how to improve their tasks. Employee involvement includes a range of policies that, at the minimal end, permit workers to suggest improvement, and at the substantive end, create an integrated strategy to give all employees the ability, motivation, and authority to constantly improve the organization's operations. Despite the evidence of its benefits, substantive employee involvement remains the exception in the U.S. work force. Levine explores the obstacles to its spread, which include legal barriers, capital markets that discourage investment in people, organizational inertia, and the costs of implementation. Levine concludes with specific public policy recommendations for increasing the extent of employee involvement, including changes in government regulation of capital and labor markets to encourage long-term investment and labor-management cooperation. He recommends macroeconomic policies to sustain high employment, less regulation for high-involvement workplaces, and training in schools and on the job to teach high-involvement practices. He also suggests new roles for unions and provides a checklist for employers to assess their progress in implementing employee involvement. David I. Levine was on the staff of President Clinton's Council of Economic Advisers and an associate professor in the Haas School of Business at the University of California, Berkeley. Selected as a Noteworthy Book in Industrial Relations and Labor Economics by the Firestone Library, Princeton University.
Advertisement