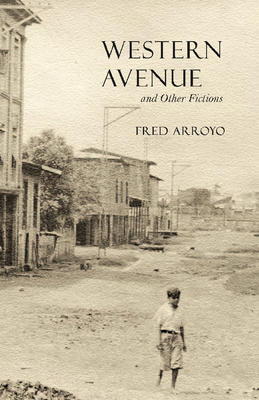 Western Avenue and Other Fictions (Camino del Sol ) (Paperback)
University of Arizona Press, 9780816502332, 128pp.
Publication Date: April 1, 2012
* Individual store prices may vary.
Description
In these engaging and often gripping short stories, Fred Arroyo takes us into the lives of working-class Hispanic migrants and immigrants, who are often invisible while they work in plain sight across America. As characters intertwine and evolve across stories, Arroyo creates a larger narrative that dramatizes the choices we make to create identity, make meaning, and deal with hardships and loss. His stories are linked by a concern with borders, both real and imagined, and the power that memory and imagination have to shape and structure our lives.

Through his characters and their true-to-life situations, Arroyo makes visible both internal and external conflicts that are deeply rooted in—and affected by—place. A bodega, a university town, a factory, a Chicago street, some dusty potato fields: here is where we encounter ordinary people who work, dream, love, and persist in the face of violence, bereavement, disappointment, and loss—particularly the loss of mothers, fathers, and loved ones.
Arroyo's characters experience a strange wonder as the midwestern United States increasingly appears to be a place created by the Latinas and Latinos who remain out of the sight and minds of Anglos. In lyrical language weighted by detail, exquisite imagery, and evocative story, Arroyo imagines characters who confront the tattered connections between memory and longing, generations and geographies, place and displacement, as they begin to feel their own longings, "breathing in whatever was offered, feeling, deep in the small and fragile borders of my heart," as one character puts it, "that it came with a sorrow I could never betray."
 
About the Author
Fred Arroyo lives in southern California and teaches at Whittier College. He is the author of the novel The Region of Lost Names, also published by the University of Arizona Press.
Praise For Western Avenue and Other Fictions (Camino del Sol )…
"Arroyo's stories paint a vivid picture of the migrant class, shining light on those frequently forgotten."—Publishers Weekly
 
"What goes on in the hearts, minds, and souls of people who face constant physical labor and pain, plus the threat that they might be arrested at any moment? Fred Arroyo shows us in his powerful and lyrical stories."—Peggy Shumaker, author of Just Breathe Normally
 
"Arroyo is a muralist of the first order. A community 'born into the deep music of work and pain' gazes out from each vivid panel."—Kevin McIlvoy, author of The Complete History of New Mexico: Stories
 
"Fred Arroyo's fine atlas of stories, Western Avenue and Other Fictions, is an ark of conveyance. These transporting fictions worry the paradox of the road as both a place itself and the means we move through place to a place beyond. Yes, these stories move and they are profoundly moving."—Michael Martone, author of Four for a Quarter: Fictions
 
"Arroyo's language is like food, his ideas always tugging the reader backward to linger and solve as the narrative flows forward, and his stories reveal neighbors on this earth whose inner lives grow mysteriously stronger as the forces arrayed against them are intensified. These are people we want to know. This is a writer on whom we can rely."—Kim Stafford, author of The Muses Among Us: Eloquent Listening and Other Pleasures of the Writer's Craft

"A beautiful collection of stories, passionate, poetic, rich in detail—these stories pull you in and won't let you go, even long after you put the book down. These stories show what many of us have known since his first book, Fred Arroyo is fundamental to U.S. Latino Literature."—Daniel Chacón, author of Unending Rooms

"Fred Arroyo's poetic writing makes for an astonishingly beautiful meditation on the American Dream and the American Nightmare. This is a must read and Arroyo is a writer to watch."—Demetria Martinez, author of Confessions of a Berlitz-Tape Chicana