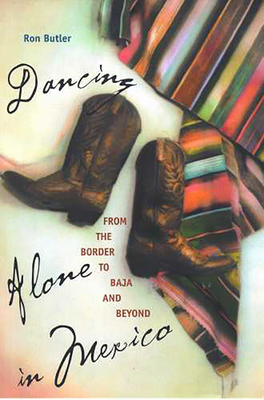 Dancing Alone in Mexico: From the Border to Baja and Beyond (Paperback)
From the Border to Baja and Beyond
University of Arizona Press, 9780816520237, 217pp.
Publication Date: July 1, 2000
* Individual store prices may vary.
or
Not Currently Available for Direct Purchase
Description
Can a man have a love affair with a foreign land? Ron Butler never dreamed Mexico would capture his heart and his soul. But when his ex-wife moved to Guadalajara with their children in the wake of divorce, he found himself crisscrossing the country, seduced by its charms and moved by its rhythms and its melodies.
Like the diver of an old Mexican legend who lives beneath the sea seeking the best pearl, Butler lost himself in Mexico and found the hidden treasures of every tiny hamlet and big metropolis. He writes about the endangered monarch butterflies of El Rosario, the street bands of Zacatecas, and the mummies of Guanajuato. He takes a magical night ferry ride from Mazatlan and a train excursion into Copper Canyon--a chasm four times larger than the Grand Canyon--in Mexico's most mysterious mountains. He goes off the beaten path in such tourist havens as Acapulco and Cancun. And he walks in the footsteps of movie stars and artists who too have been enamored of Mexico.
Poking into the nooks and crannies of Mexico, Butler indulges in tasty Mexican specialties at both the finest restaurants and out-of-the-way street stands. He finds the best tequila in the town named Tequila, the world's most delicious cup of coffee in Veracruz, the sweetest dulce in Morelia, and the best mole--a Mayan chile and chocolate sauce embellished by nuns anxious to please a visiting Spanish viceroy--in Puebla. Sharing his considerable knowledge of art, Butler also uncovers the best of Mexico's museums and advises shoppers about folk crafts.
Informative and helpful as the best travel guide, Dancing Alone in Mexico will help even seasoned travelers to get the most out of their trips to Mexico. Casual and lively as the best travel memoir, the book will also delight the armchair traveler with south-of-the-border stories and adventures that come only to those who dance not alone but with an entire land.
About the Author
Ron Butler is the winner of Mexico's prestigious La Pluma de Plata award for outstanding travel writing and is the author of Fodor's Guide to New Mexico and The Best of the Old West. His writing has appeared in newspapers and magazines nationwide, including Travel & Leisure, Travel/Holiday, and Ladies' Home Journal.
Praise For Dancing Alone in Mexico: From the Border to Baja and Beyond…
"[A] love song to a country, to a people, to a way of life that is at once alien and yet irresistibly alluring." Chicago Tribune "Dancing Alone in Mexico captures the flavor of the country, its true essence, in a series of personal memoirs that provide illuminating insights for anyone venturing south of the border, or for the armchair traveler seeking literary adventure." The Mature Traveler "Whether Butler is describing an afternoon of shopping in Nogales, his search for the perfect cup of Mexican coffee, or the allure of the night ferry to La Paz, he writes with a passion that is contagious. This is an excellent book, with an intimacy more often found in love letters than travel books." Arizona Daily Star "If you plan to travel to Mexico, Dancing Alone in Mexico by Ron Butler is must reading. If you would like to travel to Mexico but can't get there, Dancing Alone in Mexico is well worth the price to live vicariously through the eyes and ears of a many who loves, enjoys, understands and knows the country better than any norte Americano I know." Montgomery Alabama Advertiser
Advertisement