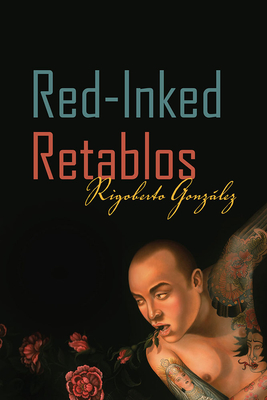 Red-Inked Retablos (Paperback)
University of Arizona Press, 9780816521357, 168pp.
Publication Date: March 14, 2013
* Individual store prices may vary.
or
Not Currently Available for Direct Purchase
Description
In the Mexican Catholic tradition, retablos are ornamental structures made of carved wood framing an oil painting of a devotional image, usually a patron saint. Acclaimed author and essayist Rigoberto Gonzalez commemorates the passion and the pain of these carvings in his new volume Red-Inked Retablos, a moving memoir of human experience and thought.
This frank new collection masterfully combines accounts from Gonzalez's personal life with reflections on writers who have influenced him. The collection offers an in-depth meditation on the development of gay Chicano literature and the responsibilities of the Chicana/o writer.
Widely acclaimed for giving a voice to the Chicano GLBT community, Gonzalez's writing spans a wide range of genres: poetry, fiction, nonfiction, and bilingual books for children and young adults. Introduced by Women's Studies professor Maythee Rojas, Retablos collects thirteen pieces that together provide a narrative of Gonzalez's life from his childhood through his career as a writer, critic, and mentor.
In Red-Inked Retablos, Gonzalez continues to expand his oeuvre on mariposa (literally, "butterfly") memory, a genre he pioneered in which Chicano/a writers openly address non-traditional sexuality. For Gonzalez, mariposa memory is important testimony not only about reconfiguring personal identity in relation to masculinity, culture, and religion. It's also about highlighting values like education, shaping a sex-positive discourse, and exercising agency through a public voice. It's about making the queer experience a Chicano experience and the Chicano experience a queer one.
About the Author
Rigoberto Gonzalez is an associate professor of English at Rutgers University-Newark. He is the author of thirteen books of poetry and prose and is the editor of Camino del Sol: Fifteen Years of Latina and Latino Writing. He is the recipient of Guggenheim and NEA fellowships and a grant from the New York Foundation for the Arts, and winner of the American Book Award, The Poetry Center Book Award, and The Shelley Memorial Award of The Poetry Society of America. He is a contributing editor for Poets & Writers Magazine and a member of the executive board of directors of the National Book Critics Circle.
Advertisement