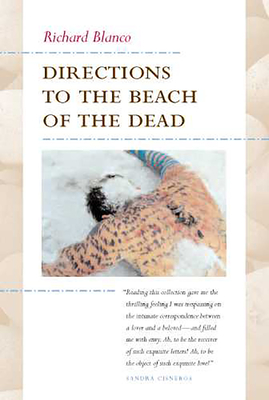 Directions to the Beach of the Dead (Camino del Sol )
Paperback

* Individual store prices may vary.
Description
In his second book of narrative, lyric poetry, Richard Blanco explores the familiar, unsettling journey for home and connections, those anxious musings about other lives: "Should I live here? Could I live here?" Whether the exotic ("I'm struck with Maltese fever …I dream of buying a little Maltese farm…) or merely different ("Today, home is a cottage with morning in the yawn of an open window…"), he examines the restlessness that threatens from merely staying put, the fear of too many places and too little time.

The words are redolent with his Cuban heritage: Marina making mole sauce; Tía Ida bitter over the revolution, missing the sisters who fled to Miami; his father, especially, "his hair once as black as the black of his oxfords…" Yet this is a volume for all who have longed for enveloping arms and words, and for that sanctuary called home. "So much of my life spent like this-suspended, moving toward unknown places and names or returning to those I know, corresponding with the paradox of crossing, being nowhere yet here." Blanco embraces juxtaposition. There is the Cuban Blanco, the American Richard, the engineer by day, the poet by heart, the rhythms of Spanish, the percussion of English, the first-world professional, the immigrant, the gay man, the straight world. There is the ennui behind the question: why cannot I not just live where I live? Too, there is the precious, fleeting relief when he can write "…I am, for a moment, not afraid of being no more than what I hear and see, no more than this:..." It is what we all hope for, too.
Praise For Directions to the Beach of the Dead (Camino del Sol )…
Winner of the PEN Beyond Margins Award!

"Takes the reader on a splendid journey through time, love, family, and heritage." —Multicultural Review

"This heartfelt collection of poems is an endless pursuit of what we hope to become." —Multicultural Review

"Directions to the Beach of the Dead is absolutely breathtaking and gorgeous in its quest for place, family, self-discovery. For all poetry lovers, this will be a difficult book to top." —Virgil Suarez 

"Part travel diary and part journal in time, Directions to the Beach of the Dead takes Blanco into uncharted territory, emotionally as well as geographically, showcasing his great gift for the precise notation of sights, thoughts, and feelings. This book confirms Blanco's place as a strong and distinctive voice in American poetry. —Gustavo Perez Firmat 

 
University of Arizona Press, 9780816524792, 80pp.
Publication Date: September 1, 2005
About the Author
Richard Blanco's first book, City of a Hundred Fires, won the University of Pittsburgh Agnes Starrett Prize in 1997. His work has appeared in many anthologies, including The Best American Poetry 2000. Blanco, who received a Master of Fine Arts degree in Creative Writing in 1997, lives in Miami, where he works as an engineer and writes. He was selected as the 2013 Inaugural Poet by President Barack Obama.