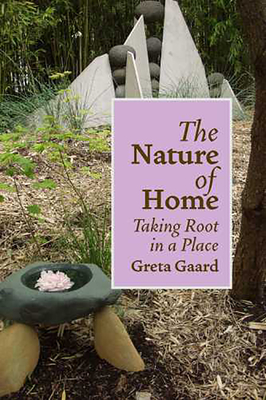 The Nature of Home
Taking Root in a Place
Paperback

* Individual store prices may vary.
Description
"As long as humans have been around, we've had to move in order to survive." So arises that most universal and elemental human longing for home, and so begins Greta Gaard's exploration of just precisely what it means to be at home in the world.

Gaard journeys through the deserts of southern California, through the High Sierras, the Wind River Mountains, and the Northern Cascades, through the wildlands and waterways of Washington and Minnesota, through snow season, rain season, mud season, and lilac season, yet her essays transcend mere description of natural beauty to investigate the interplay between place and identity. Gaard examines the earliest environments of childhood and the relocations of adulthood, expanding the feminist insight that identity is formed through relationships to include relationships to place. "Home" becomes not a static noun, but an active verb: the process of cultivating the connections with place and people that shape who we become.

Striving to create a sense of home, Gaard involves herself socially, culturally, and ecologically within her communities, discovering that as she works to change her environment, her environment changes her. As Gaard investigates environmental concerns such as water quality, oil spills, or logging, she touches on their parallels to community issues such as racism, classism, and sexism, uncovering the dynamic interaction by which "humans, like other life on earth, both shape and are shaped by our environments."

While maintaining an understanding of the complex systems and structures that govern communities and environments, Gaard's writing delves deeper to reveal the experiences and realities we displace through euphemisms or stereotypes, presenting issues such as homelessness or hunger with compelling honesty and sensitivity. Gaard's essays form a quest narrative, expressing the process of letting go that is an inherent part of an impermanent life. And when a person is broken, in the aftermath of that letting go, it is a place that holds the pieces together.

As long as we are forced to move—by economics, by war, by colonialism—the strategies we possess to make and redefine home are imperative to our survival, and vital in the shaping of our very identities.
Praise For The Nature of Home: Taking Root in a Place…
"Combining personal experiences with nature writing and social critique, Gaard touches on diverse and compelling subjects, including homelessness, job dissatisfaction, logging, and a lesbian couple's struggle to fit in."—Booklist
 
"This narrative provides rich terrain for those interested in questions of environmental ethics and social justice."—Western American Literature
 
"Whether camping out at the top of a glacier on Mt. Baker, or kneeling on the shore of Lake Superior paying homage to the Ojibwe grandmother who inhabits it, Gaard exemplifies a woman who is both as fluid as the rivers she loves and as true to herself as a river to its channel."—Turning Wheel
University of Arizona Press, 9780816525768, 224pp.
Publication Date: November 15, 2007
About the Author
Greta Gaard is the author of Ecological Politics: Ecofeminists and the Greens, and editor of Ecofeminism: Women, Animals, Nature. A well-published environmental literature critic, she currently teaches at the University of Wisconsin, River Falls, and serves on the Board of Directors for the Environmental Association for Great Lakes Education.
or
Not Currently Available for Direct Purchase