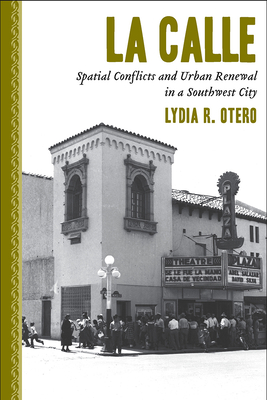 La Calle (Paperback)
Spatial Conflicts and Urban Renewal in a Southwest City
University of Arizona Press, 9780816528882, 288pp.
Publication Date: November 15, 2010
* Individual store prices may vary.
Description
On March 1, 1966, the voters of Tucson approved the Pueblo Center Redevelopment Project—Arizona's first major urban renewal project—which targeted the most densely populated eighty acres in the state. For close to one hundred years, tucsonenses had created their own spatial reality in the historical, predominantly Mexican American heart of the city, an area most called "la calle." Here, amid small retail and service shops, restaurants, and entertainment venues, they openly lived and celebrated their culture. To make way for the Pueblo Center's new buildings, city officials proceeded to displace la calle's residents and to demolish their ethnically diverse neighborhoods, which, contends Lydia Otero, challenged the spatial and cultural assumptions of postwar modernity, suburbia, and urban planning.

Otero examines conflicting claims to urban space, place, and history as advanced by two opposing historic preservationist groups: the La Placita Committee and the Tucson Heritage Foundation. She gives voice to those who lived in, experienced, or remembered this contested area, and analyzes the historical narratives promoted by Anglo American elites in the service of tourism and cultural dominance.

La Calle explores the forces behind the mass displacement: an unrelenting desire for order, a local economy increasingly dependent on tourism, and the pivotal power of federal housing policies. To understand how urban renewal resulted in the spatial reconfiguration of downtown Tucson, Otero draws on scholarship from a wide range of disciplines: Chicana/o, ethnic, and cultural studies; urban history, sociology, and anthropology; city planning; and cultural and feminist geography.
About the Author
Lydia Otero is an assistant professor in the Department of Mexican American and Raza Studies at the University of Arizona. Her work on claiming place, historic preservation, and Mexican American resistance in the 1930s has appeared as contributions to various anthologies. Otero has family roots in Southern Arizona on both sides and for several generations.
Praise For La Calle: Spatial Conflicts and Urban Renewal in a Southwest City…
Winner of a Southwest Book Award from the Border Regional Library Association.
"Otero is re-voicing the silenced and examining the role of power and voice in creating an imagined history. She offers a rich understanding of how resistance exists in everyday practices by individuals and how such resistance continues in the face of powerful—and disempowering—institutional and social relations."—Gabriela F. Arredondo, author of Mexican Chicago: Race, Identity and Nation, 1916–1939
"Based on meticulous research and oral histories, Lydia Otero's La Calle documents the Tucson Mexican American community's tragic experience with urban renewal during the the 1960s. It is an indictment of the politics, greed, and racism that led to the destruction of the Mexican American economic, historical, cultural, and architectural heart of the Old Pueblo. It is also an elegy and a eulogy honoring those who fought city hall, often in vain, to preserve Tucson's Mexican past. We owe them, as well as Lydia, our profound gratitude for telling their stories."—Patricia Preciado Martin, author of Beloved Land: An Oral History of Mexican Americans in Southern Arizona
or
Not Currently Available for Direct Purchase