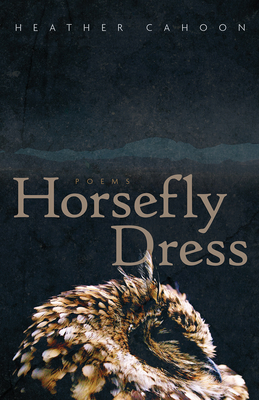 Horsefly Dress
Poems (Sun Tracks #87)
Paperback

* Individual store prices may vary.
Description
Horsefly Dress is a meditation on the experience and beauty of suffering, questioning its triggers and ultimate purpose through the lens of historical and contemporary interactions and complications of Séliš, Qĺispé, and Christian beliefs. Heather Cahoon's collection explores dark truths about the world through first-person experiences, as well as the experiences of her family and larger tribal community. As a member of the Confederated Salish and Kootenai Tribes, Cahoon crafts poems that recount traditional stories and confront Coyote's transformation of the world, including his decision to leave certain evils present, such as cruelty, greed, hunger, and death.
By weaving together stories of Cahoon's family and tribal community with those of Coyote and his family, especially Coyote's daughter, Horsefly Dress, the interactions and shared experiences show the continued relevance of traditional Séliš and Qĺispé culture to contemporary life. Rich in the imagery of autumnal foliage, migrating birds, and frozen landscapes, Horsefly Dress calls forth the sensory experience of grief and transformation. As the stories and poems reveal, the transformative powers associated with the human experience of loss belong to the past, present, and future, as do the traditional Salish-Pend d'Oreille stories that create the backbone of this intricate collection.
Praise For Horsefly Dress: Poems (Sun Tracks #87)…
"It is such a pleasure to experience so many Old Stories told in and between the lines of Heather Cahoon's gorgeous poems."—Chris La Tray, High Country News

"Heather Cahoon is a descendent of Horsefly Dress, a daughter of Coyote. Horsefly Dress is a book of poems that urges us to connect with the brutality and hope of the past and the future through memories, dreams, visions, and meditations."—Natalie Peeterse, author of Dreadful: Luminosity

"Heather Cahoon's collection, Horsefly Dress, reminds us once again of the wisdom in our elders' storytelling, the relevancy to our here and now, our always. Cahoon's is the avian language of the thoughtful Plains poets."—James Thomas Stevens, author of A Bridge Dead in the Water
University of Arizona Press, 9780816540938, 88pp.
Publication Date: September 15, 2020
About the Author
Heather Cahoon, PhD, earned her MFA in poetry from the University of Montana, where she was the Richard Hugo Scholar. She has received a Potlatch Fund Native Arts Grant and Montana Arts Council Artist Innovation Award. Her chapbook, Elk Thirst, won the Merriam-Frontier Prize. She is an assistant professor of Native American studies at the University of Montana. She is from the Flathead Reservation and is a member of the Confederated Salish and Kootenai Tribes.