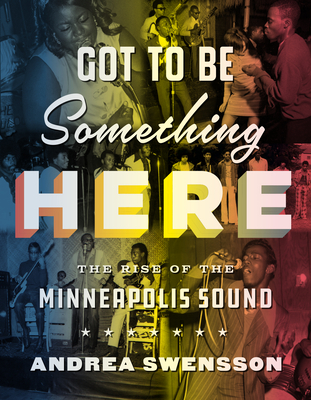 Got to Be Something Here
The Rise of the Minneapolis Sound
Hardcover

* Individual store prices may vary.
Other Editions of This Title:
Paperback (5/18/2021)
Description
Beginning in the year of Prince's birth, 1958, with the recording of Minnesota's first R&B record by a North Minneapolis band called the Big Ms, Got to Be Something Here traces the rise of that distinctive sound through two generations of political upheaval, rebellion, and artistic passion.
Funk and soul become a lens for exploring three decades of Minneapolis and St. Paul history as longtime music journalist Andrea Swensson takes us through the neighborhoods and venues, and the lives and times, that produced the Minneapolis Sound. Visit the Near North neighborhood where soul artist Wee Willie Walker, recording engineer David Hersk, and the Big Ms first put the Minneapolis Sound on record. 
Across the Mississippi River in the historic Rondo district of St. Paul, the gospel-meets-R&B groups the Exciters and the Amazers take hold of a community that will soon be all but erased by the construction of I-94. From King Solomon's Mines to the Flame, from The Way in Near North to the First Avenue stage (then known as Sam's) where Prince would make a triumphant hometown return in 1981, Swensson traces the journeys of black artists who were hard-pressed to find venues and outlets for their music, struggling to cross the color line as they honed their sound. 
And through it all, there's the music: blistering, sweltering, relentless funk, soul, and R&B from artists like Maurice McKinnies, Haze, Prophets of Peace, and The Family, who refused to be categorized and whose boundary-shattering approach set the stage for a young Prince Rogers Nelson and his peers Morris Day, André Cymone, Jimmy Jam, and Terry Lewis to launch their careers, and the Minneapolis Sound, into the stratosphere. A visit to Prince's Paisley Park and a conversation with the artist provide a rare glimpse into his world and an intimate sense of his relationship to his legacy and the music he and his friends crafted in their youth.
Praise For Got to Be Something Here: The Rise of the Minneapolis Sound…
"Got to Be Something Here nails the atmosphere that I grew up in. Clubs, policies, and things that didn't make sense back then, after reading this book make all the sense in the world. I think anyone who wants to understand musicians who hailed from North Minneapolis needs to read it. There are answers in these pages."—André Cymone
"Anyone seeking to understand the community of black culture workers that birthed Prince and his peers should read Andrea Swensson's definitive history of the rise of the Minneapolis sound."—Zaheer Ali, New York University
"Prince didn't come from nowhere (though Chanhassen is pretty close!). In Got to Be Something Here, Andrea Swensson explains the roots and context of a musician who changed the world. The book is scholarly and supremely well-researched, but as cool, gripping, and fun as any of his Purple Majesty's finest grooves."—Jim DeRogatis, author and co-host of Public Radio's Sound Opinions
"This is a book that reminds us that culture has no dead ends, only detours."—City Pages
"Got to Be Something Here is both an inspiring and an infuriating read."—The Current
"Andrea Swensson, is the first major book to discuss the Twin Cities' unique contributions to African American music; it should go without saying that it comes highly recommended to anyone who reads dance / music / sex / romance."—Princesongs.org
"What's surprising about Got to Be Something Here is how much farther and deeper it goes, how richly detailed it is, how it captures a past at risk of fading away."—MinnPost
"An illuminating slice of Twin Cities cultural and political history."—Star Tribune
"Andrea Swensson's new book, Got to Be Something Here: The Rise of the Minneapolis Sound, is a tour de force that sheds light on a greater story that needed telling."—Twin Cities Geek
"By combining these political and cultural realities, Swensson provides readers with a comprehensive vision of not only the best in popular music studies but also how individuals within disrupted neighborhoods can survive and prosper nonetheless, making sense, finding relevance, and taking pleasure in their everyday lives."—Minnesota History
Univ Of Minnesota Press, 9780816632336, 216pp.
Publication Date: October 10, 2017
About the Author
Andrea Swensson is an author, radio host, and music journalist. She hosts a weekly program about the Minnesota music scene, The Local Show, at Minnesota Public Radio's 89.3 The Current and contributes to the Local Current Blog. Prior to joining MPR, she was the music editor at City Pages, where she founded the AAN AltWeekly Award-winning Gimme Noise music blog.