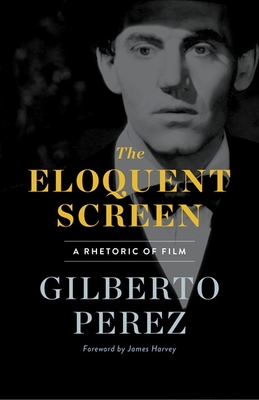 The Eloquent Screen (Paperback)
A Rhetoric of Film
Univ Of Minnesota Press, 9780816641338, 448pp.
Publication Date: July 23, 2019
Other Editions of This Title:
Hardcover (7/23/2019)
* Individual store prices may vary.
Description
A lifetime of cinematic writing culminates in this breathtaking statement on film's unique ability to move us
Cinema is commonly hailed as "the universal language," but how does it communicate so effortlessly across cultural and linguistic borders? In The Eloquent Screen, influential film critic Gilberto Perez makes a capstone statement on the powerful ways in which film acts on our minds and senses.
Drawing on a lifetime's worth of viewing and re-viewing, Perez invokes a dizzying array of masters past and present—including Chaplin, Ford, Kiarostami, Eisenstein, Malick, Mizoguchi, Haneke, Hitchcock, and Godard—to explore the transaction between filmmaker and audience. He begins by explaining how film fits into the rhetorical tradition of persuasion and argumentation. Next, Perez explores how film embodies the central tropes of rhetoric––metaphor, metonymy, allegory, and synecdoche––and concludes with a thrilling account of cinema's spectacular capacity to create relationships of identification with its audiences. 
Although there have been several attempts to develop a poetics of film, there has been no sustained attempt to set forth a rhetoric of film—one that bridges aesthetics and audience. Grasping that challenge, The Eloquent Screen shows how cinema, as the consummate contemporary art form, establishes a thoroughly modern rhetoric in which different points of view are brought into clear focus.
About the Author
Gilberto Perez (1943–2015) held the Noble Chair in Art and Cultural History at Sarah Lawrence College and was author of The Material Ghost: Films and Their Medium. He was film critic for The Yale Review and his essays on film have been published in The Nation, the New York Times, and the London Review of Books.