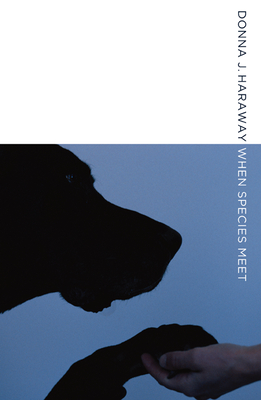 When Species Meet (Posthumanities #3)
Paperback

* Individual store prices may vary.
Other Editions of This Title:
Hardcover (12/7/2007)
Description
"When Species Meet is a breathtaking meditation on the intersection between humankind and dog, philosophy and science, and macro and micro cultures." —Cameron Woo, Publisher of Bark magazine
In 2006, about 69 million U.S. households had pets, giving homes to around 73.9 million dogs, 90.5 million cats, and 16.6 million birds, and spending over $38 billion dollars on companion animals. As never before in history, our pets are truly members of the family. But the notion of "companion  species"—knotted from human beings, animals and other organisms, landscapes, and technologies—includes much more than "companion animals."
In When Species Meet, Donna J. Haraway digs into this larger phenomenon to contemplate the interactions of humans with many kinds of critters, especially with those called domestic. At the heart of the book are her experiences in agility training with her dogs Cayenne and Roland, but Haraway's vision here also encompasses wolves, chickens, cats, baboons, sheep, microorganisms, and whales wearing video cameras. From designer pets to lab animals to trained therapy dogs, she deftly explores philosophical, cultural, and biological aspects of animal-human encounters.
In this deeply personal yet intellectually groundbreaking work, Haraway develops the idea of companion species, those who meet and break bread together but not without some indigestion. "A great deal is at stake in such meetings," she writes, "and outcomes are not guaranteed.  There is no assured happy or unhappy ending—socially, ecologically, or scientifically. There is only the chance for getting on together with some grace."
Ultimately, she finds that respect, curiosity, and knowledge spring from animal-human associations and work powerfully against ideas about human exceptionalism.
One of the founders of the posthumanities, Donna J. Haraway is professor in the History of Consciousness Department at the University of California, Santa Cruz. Author of many books and widely read essays, including The Companion Species Manifesto: Dogs, People, and Significant Otherness and the now-classic essay "The Cyborg Manifesto," she received the J. D. Bernal Prize in 2000, a lifetime achievement award from the Society for Social Studies in Science.
Praise For When Species Meet (Posthumanities #3)…
Donna Haraway's latest book, When Species Meet, is a stunning meditation on the ordinary. Tying together questions of interspecies encounters and alternative practices of world building, Haraway explores how contemporary human beings interact with various critters to form meanings, experiences, and worlds. The text effortlessly slides between theory and autobiography; one of the driving connections in this regard is Ms. Cayenne Pepper, an Australian sheepdog whose "darter-tongue kisses" compel Haraway to look closely at what biologist Lynn Margulis calls "symbiogenesis," a process that explains how life forms continually intermingle, leading to ever more "intricate and multidirectional acts of association of and with other life forms." From lab animals to interspecies love to breeding purebreds, Haraway ensures that her readers will never look at human-animal encounters of any sort in the same way again.

While those familiar with Haraway's oeuvre will find numerous connections to her earlier work, she does an excellent job of narrating how she came to the questions at the heart of When Species Meet and (perhaps most importantly) what is at stake for her in these questions, politically and otherwise. Of particular interest to philosophy buffs are Haraway's gratifying critiques of Gilles Deleuze and Félix Guattari's well-known writing on "becoming-animal"; these critiques arise as part of Haraway's overall challenge to the boundaries between "wild" or "domestic" creatures. Similarly, her response to Jacques Derrida's ruminations on animals reveals the provocations that can arise from work that pokes holes in conventional disciplinary engagements with any given topic. Haraway's willingness to take on both biology and philosophy, to cite only two of her resources, results in suggestive insights on a number of issues, but especially (with Derrida, et. al.) regarding the question of what it means to take animals seriously.

I found Haraway's considerable enthusiasm and knowledge in When Species Meet to be invigorating. This book should appeal to a broad audience including animal lovers, scientists and their allies, theorists, and people who love random and little known information (e.g., the history of imported North American gray wolves during South African apartheid). While Haraway emphasizes that her desire to look more carefully at companion species, those "who eat and break bread together but not without some indigestion," does not come with any guarantees, she infectiously believes that there is a good deal at stake in the mundane and extraordinary details of the co-shaping species she documents across these pages. Given her hope for the worldly orientations, such as curiosity and respect, that might be cultivated by looking at companion species differently, it is appropriate that she begins and ends the text by reminding us that "[t]here is no assured happy or unhappy ending — socially, ecologically, or scientifically. There is only the chance for getting on together with some grace."

Review by Marie Draz, Feminist Review Blog


Univ Of Minnesota Press, 9780816650460, 360pp.
Publication Date: November 26, 2007