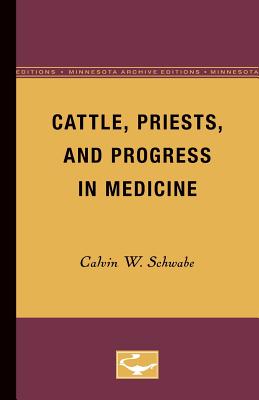 Cattle, Priests, and Progress in Medicine (Paperback)
Univ Of Minnesota Press, 9780816658671, 292pp.
Publication Date: May 26, 1978
* Individual store prices may vary.
Description
Cattle, Priests, and Progress in Medicine was first published in 1978. Minnesota Archive Editions uses digital technology to make long-unavailable books once again accessible, and are published unaltered from the original University of Minnesota Press editions.
The author shows that over the centuries many of the most significant breakthroughs in improving humans health have been closely associated with observations and experiments on animals other than man. Because human medical progress has been so dependent on veterinary studies, he urges that schools of veterinary medicine assume a much greater role in the training of persons for research in human medicine.
To illuminate the historical link between animals and man in medical progress, Professor Schwabe recounts highlights in the history of medicine from ancient times onward. He describes the early history of man in terms of animal cultures, focusing on the prehistoric Nile Valley, and points to similarities in medical knowledge between present-day "cattle" societies in Northeastern Africa and the ancient people of the Nile. He discusses the comparative healers of ancient Egypt, the comparative foundations of Greek medicine, the Arabic contribution, Sicily and the beginnings of modern medicine, and subsequent developments through the Renaissance .Bringing the history down to modern times, Professor Schwabe emphasizes the role of veterinary medicine in medical research. He outlines specific reforms in the curricula of schools and colleges of veterinary medicine which would provide for the education of medical investigators.
About the Author
Calvin W. Schwabe was a professor of epidemiology in the schools of veterinary medicine and medicine at the University of California, Davis. He served as consultant on many international committees and commissions, including a number under the sponsorship of the World Health Organization.