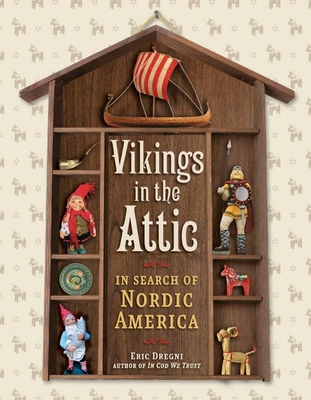 Vikings in the Attic (Hardcover)
In Search of Nordic America
Univ Of Minnesota Press, 9780816667437, 280pp.
Publication Date: April 14, 2011
Other Editions of This Title:
Paperback (6/1/2014)
* Individual store prices may vary.
Description
Growing up with Swedish and Norwegian grandparents with a dash of Danish thrown in for balance, Eric Dregni thought Scandinavians were perfectly normal. Who doesn't enjoy a good, healthy salad (Jell-O packed with canned fruit, colored marshmallows, and pretzels) or perhaps some cod soaked in drain cleaner as the highlights of Christmas? Only later did it dawn on him that perhaps this was just a little strange, but by then it was far too late: he was hooked and a dyed-in-the-wool Scandinavian himself.

But what does it actually mean to grow up Scandinavian-American or to live with these Norwegians, Swedes, Finns, Danes, and Icelanders among us? In Vikings in the Attic, Dregni tracks down and explores the significant—and quite often bizarre—historic sites, tales, and traditions of Scandinavia's peculiar colony in the Midwest. It's a legacy of the unique—collecting silver spoons, a suspicion of flashy clothing, shots of turpentine for the common cold, and a deep love of rhubarb pie—but also one of poor immigrants living in sod houses while their children attend college, the birth of the co-op movement, the Farmer–Labor party, and government agents spying on Scandinavian meetings hoping to nab a socialist or antiwar activist.

For all the tales his grandparents told him, Dregni quickly discovers there are quite a few they neglected to mention, such as Swedish egg coffee, which includes the eggshell, and Lutheran latte, which is Swedish coffee with ice cream. Vikings in the Attic goes beyond the lefse, lutefisk, and lusekofter (lice jacket) sweaters to reveal the little-known tales that lie beneath the surface of Nordic America. Ultimately, Dregni ends up proving by example why generations of Scandinavian-Americans have come to love and cherish these tales and traditions so dearly. Well, almost all of them.*

* See lutefisk.
About the Author
Aside from barely edible fish and rhubarb malts, Eric Dregni has other obsessions ranging from futuristic jet packs and oversized fiberglass town monuments to Zamboni ice resurfacers. He has turned his fixations into sixteen books, including four previous titles with the University of Minnesota Press: In Cod We Trust: Living the Norwegian Dream, Never Trust a Thin Cook and Other Lessons from Italy's Culinary Capital, Midwest Marvels, and Minnesota Marvels. He lives in Minneapolis, is dean of the Italian Concordia Language Village, and is assistant professor of English and journalism at Concordia University in St. Paul.
Praise For Vikings in the Attic: In Search of Nordic America…
"While reading Vikings in the Attic, I solved two family mysteries and added at least ten new jokes to my act." —Louie Anderson
"Dregni's survey is a serious and interesting exploration of why Scandinavians settled in the Upper Midwest." —Minneapolis-St. Paul Star Tribune
"Vikings in the Attic, for all its humor and laughter generating incongruities, is a serious book, raising important issues of national identity." —Nordic Notes
or
Not Currently Available for Direct Purchase