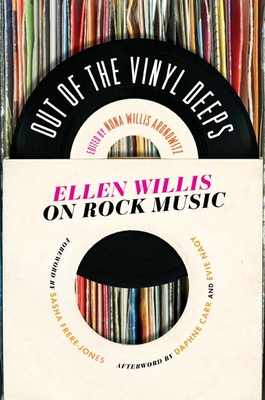 Out of the Vinyl Deeps
Ellen Willis on Rock Music
Paperback

* Individual store prices may vary.
Description
In 1968, the New Yorker hired Ellen Willis as its first popular music critic. Her column, Rock, Etc., ran for seven years and established Willis as a leader in cultural commentary and a pioneer in the nascent and otherwise male-dominated field of rock criticism. As a writer for a magazine with a circulation of nearly half a million, Willis was also the country's most widely read rock critic. With a voice at once sharp, thoughtful, and ecstatic, she covered a wide range of artists—Bob Dylan, The Who, Van Morrison, Elvis Presley, David Bowie, the Rolling Stones, Creedence Clearwater Revival, Joni Mitchell, the Velvet Underground, Sam and Dave, Bruce Springsteen, and Stevie Wonder—assessing their albums and performances not only on their originality, musicianship, and cultural impact but also in terms of how they made her feel.
Because Willis stopped writing about music in the early 1980s—when, she felt, rock 'n' roll had lost its political edge—her significant contribution to the history and reception of rock music has been overshadowed by contemporary music critics like Robert Christgau, Lester Bangs, and Dave Marsh. Out of the Vinyl Deeps collects for the first time Willis's Rock, Etc. columns and her other writings about popular music from this period (includingliner notes for works by Lou Reed and Janis Joplin) and reasserts her rightful place in rock music criticism.
More than simply setting the record straight, Out of the Vinyl Deeps reintroduces Willis's singular approach and style—her use of music to comment on broader social and political issues, critical acuity, vivid prose, against-the-grain opinions, and distinctly female (and feminist) perspective—to a new generation of readers. Featuring essays by the New Yorker's current popular music critic, Sasha Frere-Jones, and cultural critics Daphne Carr and Evie Nagy, this volume also provides a lively and still relevant account of rock music during, arguably, its most innovative period.
Praise For Out of the Vinyl Deeps: Ellen Willis on Rock Music…
"Here, [Ellen Willis's] witty, cerebral essays finally get the compilation they deserve. She grapples with voices who inspired her . . . and relates feminism to music in revelatory ways.
Vinyl Deeps
is the testament of a crucial voice. At a time when rock clichés were still being invented, Willis was already leaving them behind." —Rob Sheffield,
Rolling Stone
"Willis's work is crystalline enough that reading each essay takes the reader on a trip back to the era when it originally appeared, but it's a testimony to her intellect and talent that those journeys look completely unlike any hagiography you might stumble across. She cuts through clichés nimbly . . . and the essays vibrate off the page." —Village Voice 
"At a time when music was less understood than it is today, Willis appreciated why musicians combined passion and intellect to not only document their time, but also influence movements." —
Publishers Weekly
, starred review "
Out of the Vinyl Deeps
should take its place alongside Marcus's
Mystery Train
and Bangs's
Psychotic Reactions and Carburetor Dung
as one of the canonical documents of early pop music criticism. Even with her tendency to use big words and big ideas, Willis always knew at heart that music was a gas, gas, gas. She celebrated the seriousness of pleasure and relished the pleasure of thinking seriously. She followed in the footsteps of the New Yorker critics Dorothy Parker and Pauline Kael, and elbowed her way into the men's club of music criticism. Maybe she didn't even realize it was a men's club—Willis seemed fiercely independent that way. Ultimately,
Out of the Vinyl Deeps
makes you want to do what the best music criticism should: pull out a record and listen to it with new ears." —
New York Times
 "I'd call Ellen Willis the Ida Lupino of music writing, but even that wouldn't say enough about this book's value.
Out of the Vinyl Deeps
is a time capsule, the publication of which invigorates and illuminates our grasp of the period it covers—but it is also a timeless compendium of clear thinking and fresh, humane, and persuasive prose."—Jonathan Lethem
"Finally, Willis's game-changing music writing is available in one place. It is like unearthing the holy grail of rock criticism!" —Kathleen Hanna
"A pleasure to read and a crucial challenge when truly considered, Willis's essays on rock, freedom, sex, and dancing in your bedroom continue to teach me every time I return to them." —Ann Powers
Univ Of Minnesota Press, 9780816672837, 272pp.
Publication Date: May 1, 2011
About the Author
Ellen Willis (1941–2006) was a groundbreaking radical leftist writer and thinker whose true loves were rock music, feminism, pleasure, and freedom. She was the first pop music critic for the New Yorker and an editor and columnist at the Village Voice. She wrote for numerous publications, including Rolling Stone, the New York Times, the Nation, and Dissent. She was the founder of the Cultural Reporting and Criticism Program at New York University, and she published three books of essays, Beginning to See the Light, No More Nice Girls, and Don't Think, Smile!Nona Willis Aronowitz has written about women, sex, music, technology, film, and youth culture for publications such as the Nation, the New York Observer, the Village Voice, and Salon. She is coauthor of Girldrive: Criss-crossing America, Redefining Feminism. Sasha Frere-Jones is a musician and writer from New York. He is a staff writer for the New Yorker and a member of the bands Ui and Calvinist. Daphne Carr lives and writes in New York City. She is editor of the Best Music Writing series. Evie Nagy is an associate editor at Billboard Magazine.
Coverage from NPR
or
Not Currently Available for Direct Purchase