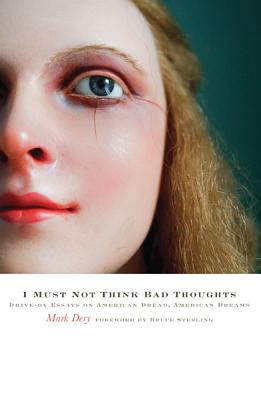 I Must Not Think Bad Thoughts
Drive-by Essays on American Dread, American Dreams
Paperback

* Individual store prices may vary.
Other Editions of This Title:
Hardcover (4/6/2012)
Description
From the cultural critic Wired called "provocative and cuttingly humorous" comes a viciously funny, joltingly insightful collection of drive-by critiques of contemporary America where chaos is the new normal. Exploring the darkest corners of the national psyche and the nethermost regions of the self—the gothic, the grotesque, and the carnivalesque—Mark Dery makes sense of the cultural dynamics of the American madhouse early in the twenty-first century.
Here are essays on the pornographic fantasies of Star Trek fans, Facebook as Limbo of the Lost, George W. Bush's fear of his inner queer, the theme-parking of the Holocaust, the homoerotic subtext of the Super Bowl, the hidden agendas of IQ tests, Santa's secret kinship with Satan, the sadism of dentists, Hitler's afterlife on YouTube, the sexual identity of 2001's HAL, the suicide note considered as a literary genre, the surrealist poetry of robot spam, the zombie apocalypse, Lady Gaga, the Church of Euthanasia, toy guns in the dream lives of American boys, and the polymorphous perversity of Madonna's big toe.
Dery casts a critical eye on the accepted order of things, boldly crossing into the intellectual no-fly zones demarcated by cultural warriors on both sides of America's ideological divide: controversy-phobic corporate media, blinkered academic elites, and middlebrow tastemakers. Intellectually omnivorous and promiscuously interdisciplinary, Dery's writing is a generalist's guilty pleasure in an age of nanospecialization and niche marketing. From Menckenesque polemics on American society and deft deconstructions of pop culture to unflinching personal essays in which Dery turns his scalpel-sharp wit on himself, I Must Not Think Bad Thoughts is a head-spinning intellectual ride through American dreams and American nightmares.

Praise For I Must Not Think Bad Thoughts: Drive-by Essays on American Dread, American Dreams…
Mark Dery's cultural criticism is the stuff that nightmares are made of. He's a witty and brilliant tour guide on an intellectual journey through our darkest desires and strangest inclinations. You can't look away even if you want to.
—Mark Frauenfelder and David Pescovitz, Boing Boing
Mark Dery is gifted with sanity, humor, learning, and a prose style as keen as a barber's razor. He applies those qualities to a trustworthy and entertaining analysis of the lunatic fringe, which constitutes an ever-larger portion of the discourse in America today.
—Luc Sante
Do not turn squeamish from the many considerations of death that lurk within—vampires, tombs, disease, corruption of many varieties. Mark Dery's restless and stylish essay is concerned with one thing only—what it means to be alive in America.
—Richard Rodriguez, author of Brown: The Last Discovery of America
The bebop rhythms of Mark Dery's prose reflect an intellectual excitement that is rare among contemporary cultural essayists. Reading him is like ingesting a powerful jolt of espresso.
—Ron Rosenbaum, author of Explaining Hitler and The Shakespeare Wars
Univ Of Minnesota Press, 9780816677740, 336pp.
Publication Date: March 1, 2014
About the Author

Mark Dery is a cultural critic. He is best known for his writings on the politics of popular culture in books such as The Pyrotechnic Insanitarium: American Culture on the Brink,Escape Velocity: Cyberculture at the End of the Century,Flame Wars, and Culture Jamming. He has been a professor of journalism at New York University, a Chancellor's Distinguished Fellow at the University of California, Irvine, and a visiting scholar at the American Academy in Rome. www.markdery.com.

Bruce Sterling is a science fiction author whose novels include
Distraction, Zeitgeist, Holy Fire,
and
The Caryatids.
or
Not Currently Available for Direct Purchase