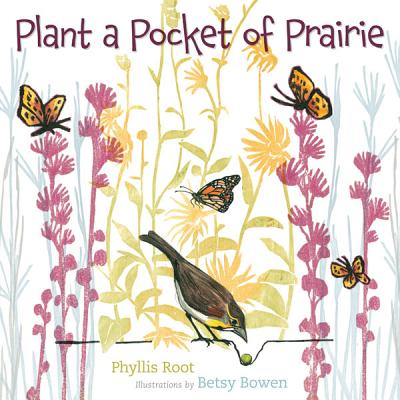 Plant a Pocket of Prairie
Hardcover

* Individual store prices may vary.
Description
Author Phyllis Root and illustrator Betsy Bowen last explored the vast, boggy peatlands of northern Minnesota in their book Big Belching Bog. Now, in Plant a Pocket of Prairie, Root and Bowen take young readers on a trip to another of Minnesota's important ecosystems: the prairie.
Once covering almost 40 percent of the United States, native prairie is today one of the most endangered ecosystems in the world. Plant a Pocket of Prairie teaches children how changes in one part of the system affect every other part: when prairie plants are destroyed, the animals who eat those plants and live on or around them are harmed as well. Root shows what happens when we work to restore the prairies, encouraging readers to "plant a pocket of prairie" in their own backyards.
By growing native prairie plants, children can help re-create food and habitat for the many birds, butterflies, and other animals that depend on them. "Plant cup plants," Root suggests. "A thirsty chickadee might come to drink from a tiny leaf pool. Plant goldenrod. A Great Plains toad might flick its tongue at goldenrod soldier beetles." An easy explanation of the history of the prairie, its endangered status, and how to go about growing prairie plants follows, as well as brief descriptions of all the plants and animals mentioned in the story.
With Betsy Bowen's beautiful, airy illustrations capturing the feel of an open prairie and all its inhabitants, readers of all ages will be inspired to start planting seeds and watching for the many fascinating animals their plants attract. What a marvelous transformation could take place if we all planted a pocket of prairie!
Praise For Plant a Pocket of Prairie…
"In lilting, free-verse passages, [Root] lets kids know that even small plots of native plants can replicate prairie conditions. Bowen's woodblock illustrations lend the right low-tech, homemade feel to the pages." —Publishers Weekly

"Could well inspire a new generation of conservationists." —Kirkus Reviews

"Although the description here is of the inhabitants of a Midwestern prairie, the conservation and restoration message is universal." —Horn Book Magazine

"Plant a Pocket of Prairie is one of the spring season's most beautiful and useful books." —Pioneer Press
Univ Of Minnesota Press, 9780816679805, 40pp.
Publication Date: May 21, 2014
About the Author

Phyllis Root is the author of more than forty books for children, including Ten Sleepy Sheep, One Duck Stuck, and Big Momma Makes the World, which won the Boston Globe Horn Book Award. She is also the author of Big Belching Bog (Minnesota, 2010), illustrated by Betsy Bowen. She lives in Minneapolis.


Betsy Bowen is the author and/or illustrator of numerous children's books, including Great Wolf and the Good Woodsman (Minnesota, 2005); Antler, Bear, Canoe: A Northwoods Alphabet Year; and Big Belching Bog (Minnesota, 2010). She lives in Grand Marais, Minnesota.