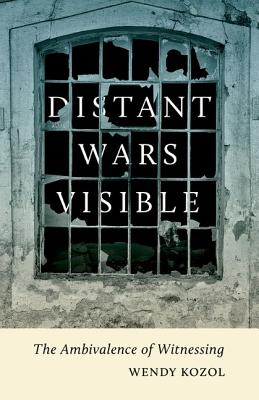 Distant Wars Visible
The Ambivalence of Witnessing (Critical American Studies)
Hardcover

* Individual store prices may vary.
Other Editions of This Title:
Paperback (11/15/2014)
Description
In our wired world, visual images of military conflict and political strife are ubiquitous. Far less obvious, far more elusive, is how we see such images, how witnessing military violence and suffering affects us. Distant Wars Visible brings a new perspective to such enduring questions about conflict photography and other forms of visual advocacy, whether in support of U.S. military objectives or in critique of the nation at war.
At the book's center is what author Wendy Kozol calls an analytic of ambivalence—a critical approach to the tensions between spectacle and empathy provoked by gazing at military atrocities and trauma. Through this approach, Distant Wars Visible uses key concepts such as the politics of recoil, the notion of looking elsewhere, skeptical documents, and ethical spectatorship to examine multiple visual cultural practices depicting war, on and off the battlefield, from the 1999 NATO bombings in Kosovo to the present.
Kozol's analysis draws from collections of family photographs, human rights photography, independent film production, photojournalism, and other examples of war's visual culture, as well as extensive visual evidence of the ways in which U.S. militarism operates to maintain geopolitical dominance—from Fallujah and Abu Ghraib to the most recent drone strikes in Pakistan.
Throughout, Kozol reveals how factors such as gender, race, and sexuality construct competing visualizations of identity in a range of media from graphic narrative and film to conflict photography and battlefield souvenirs—and how contingencies and contradictions in visual culture shape the politics and ethics of witnessing.

Praise For Distant Wars Visible: The Ambivalence of Witnessing (Critical American Studies)…
"In addition to its provocative analysis across visual cultural practices, speaking directly to an area of inquiry that has yet to be represented well at the book level,
Distant Wars Visible
makes an especially significant contribution at the level of theory. Wendy Kozol offers important new ways to conceptualize what she calls ambivalent witnessing in the spaces between spectacle and empathetic positions of seeing." —Carrie Rentschler, McGill University
"Distant Wars Visible is well-researched and cohesive, possesses and imaginative argument, and contributes to the historiography of modern US international relations."—H-Net Reviews
"Kozol. . . astutely applies feminist theory to visual reports about recent wars and national security issues, expanding understanding of witnessing as a cultural and political act."—CHOICE
"Thoroughly researched and packed with rich and timely case studies, Distant Wars Visible will be of great interest to any scholar interested in the security state's visual regimes and in the entanglement of warfare with the affects that conflict photographs may trigger more broadly."—CAA Reviews/Art Bulletin
"In centering ambivalence as an analytic, Kozol aims to challenge some of the conventions for perceiving distance and intimacy—for instance, arguing that the familiar faces of a humanitarian or "human interest" photographic practice, which aims to render evidence of humanity, might instead reproduce a racial or civilization difference."—American Quarterly
Univ Of Minnesota Press, 9780816681297, 280pp.
Publication Date: November 1, 2014
About the Author
Wendy Kozol is professor of comparative American studies at Oberlin College. She is the author of Life's America: Family and Nation in Postwar Photojournalism and has coedited two anthologies (with Wendy S. Hesford): Haunting Violations: Feminist Criticism and the Crisis of the "Real" and Just Advocacy? Women's Human Rights, Transnational Feminism, and the Politics of Representation.
or
Not Currently Available for Direct Purchase