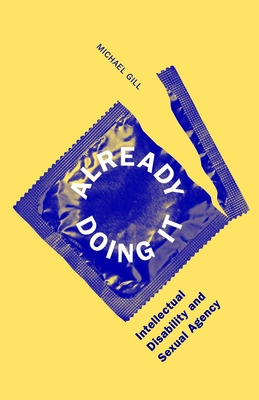 Already Doing It (Paperback)
Intellectual Disability and Sexual Agency
Univ Of Minnesota Press, 9780816682980, 288pp.
Publication Date: March 27, 2015
Other Editions of This Title:
Hardcover (3/27/2015)
* Individual store prices may vary.
Description
Why is the sexuality of people with intellectual disabilities often deemed "risky" or "inappropriate" by teachers, parents, support staff, medical professionals, judges, and the media? Should sexual citizenship depend on IQ? Confronting such questions head-on, Already Doing It exposes the "sexual ableism" that denies the reality of individuals who, despite the restrictions they face, actively make decisions about their sexual lives.
Tracing the history of efforts in the United States to limit the sexual freedoms of such persons⎯using methods such as forced sterilization, invasive birth control, and gender-segregated living arrangements—Michael Gill demonstrates that these widespread practices stemmed from dominant views of disabled sexuality, not least the notion that intellectually disabled women are excessively sexual and fertile while their male counterparts are sexually predatory. Analyzing legal discourses, sex education materials, and news stories going back to the 1970s, he shows, for example, that the intense focus on "stranger danger" in sex education for intellectually disabled individuals disregards their ability to independently choose activities and sexual partners—including nonheterosexual ones, who are frequently treated with heightened suspicion. He also examines ethical issues surrounding masturbation training that aims to regulate individuals' sexual lives, challenges the perception that those whose sexuality is controlled (or rejected) should not reproduce, and proposes recognition of the right to become parents for adults with intellectual disabilities.
A powerfully argued call for sexual and reproductive justice for people with intellectual disabilities, Already Doing It urges a shift away from the compulsion to manage "deviance" (better known today as harm reduction) because the right to pleasure and intellectual disability are not mutually exclusive. In so doing, it represents a vital new contribution to the ongoing debate over who, in the United States, should be allowed to have sex, reproduce, marry, and raise children.

About the Author
Michael Gill is assistant professor of gender, women's, and sexuality studies at Grinnell College.
Praise For Already Doing It: Intellectual Disability and Sexual Agency…
"Already Doing It is consistent and radical in its insistence on pleasure as a gauge for thinking about discourses of intellectual disability. It is an indispensable contribution to the burgeoning scholarship on sex and disability."—Robert McRuer, author of Crip Theory: Cultural Signs of Queerness and Disability
"This book will provide new and interesting ideas for many people (LGBT or not) working at all levels of primary and secondary school, whether as teachers or otherwise...If lessons and ideas from this book were fully taken on board, I could see a real difference being made to the way sexuality is viewed in school."—Sex Education
"An accessible and interesting read."—CHOICE
"Michael Gill's Already Doing It: Intellectual Disability and Sexual Agency is an important book at an important time in the history of sexuality and people with intellectual disability."—PsycCritiques
"Provocative and thought provoking, the text, through specific examples, urges the reader to examine actual individuals and their varied sexual expression in a new light. A successful argument for rights of the intellectually disabled."—Lavender Magazine
"A powerful call for the necessity of supporting sexual citizenship for persons with disability through liberatory action efforts that challenge sexual ableism."—H-Net
or
Not Currently Available for Direct Purchase