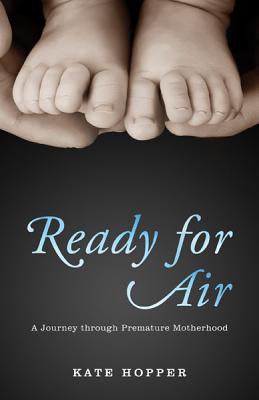 Ready for Air (Paperback)
A Journey through Premature Motherhood
Univ Of Minnesota Press, 9780816689323, 304pp.
Publication Date: September 27, 2013
* Individual store prices may vary.
Description
For Kate Hopper, pregnancy is downright unpleasant. She is tired and heavy and worried, and she wants her wine and caffeine back. But then, at a routine checkup, her doctor frowns at her chart and says, "I'm worried about a couple of things"—and unpleasant suddenly seems like paradise. What follows is a harrowing, poignant, and occasionally hysterical journey through premature motherhood, from the starting point of "leaking a little protein" to the early delivery of her tiny daughter because of severe preeclampsia and the beginning of a new chapter of frightful, lifelong love.
Half a million babies are born prematurely in the United States every year—almost one every minute—each with a unique story, and Hopper eloquently gives a voice to what their parents share: the shock, the scares, the lonely nights in the neonatal intensive care unit, the fierce attention to detail that makes for sanity and craziness, the light of faith, the warmth of family, and the terrifying attachment. Through it all runs the power of words to connect us to one another, as Hopper draws on her gifts as a writer first to help her navigate this uncertain territory and then to tell her story. With candor, grace, and a healthy dose of humor, she takes us into the final weeks of her pregnancy, the this-was-not-part-of-the-plan first weeks of little Stella's life, and the isolated world she and her husband inhabited when they took their daughter home at the onset of a cold Minnesota winter. Finally, frankly, Hopper ventures into the complicated question of whether to have another child. Down-to-earth and honest about the hard realities of having a baby, as well as the true joys, Ready for Air is a testament to the strength of motherhood—and stories—to transform lives.

About the Author
Kate Hopper teaches writing online and at the Loft Literary Center in Minneapolis, where she lives with her husband and two daughters. She holds an MFA from the University of Minnesota. She is the author of Use Your Words: A Writing Guide for Mothers and an editor at Literary Mama. For more information about her writing and classes, visit http://www.katehopper.com.
Praise For Ready for Air: A Journey through Premature Motherhood…
"Kate Hopper's Ready for Air came to me at a moment in life when I needed her unabashed, beautiful description of this unmarked breathless territory: a birth plan gone awry. Hopper does not simply chronicle her experience as a new mother; she stakes a claim with her edgy and wise renderings of a woman admitting every limitation, from money to energy to health to hope. By sharing on the page what cannot be said aloud, Hopper's gorgeous words make room for more real women in the nursery." —Sonya Huber, author of Cover Me: A Health Insurance Memoir and Opa Nobody
"Kate Hopper's raw, hopeful memoir is all paradox and ambiguity. Which is exactly how it is to become a parent: time stands still and gallops off; the world telescopes into microcosm and flings itself open; aching uncertainty meets unprecedented fortitude. Hopper takes us on an epic journey with her tiny baby—a stunning, breathless journey that shines with sincerity—and you'll be so grateful that you came." —Catherine Newman, author of Waiting for Birdy

"Hopper bravely explores what happens when we expect joy and instead are handed traumatic challenge, and she does so with a fresh, piercing, and, at times, humorous voice. I can't imagine a parent who wouldn't relate to this compelling story of a child nearly slipping away." —Debra Gwartney, author of Live Through This

"There is no writer I'd rather follow this journey with than Kate Hopper. Her storytelling skills are stunning. You will be rooting for her and her new family all the way." —Hope Edelman, author of Motherless Daughters

"After severe preeclampsia derails Kate Hopper's birth plan, the author confronts her fears of preemie parenthood with brazen honesty and an occasional fitting expletive. Her memoir, a testament to the delights and uncertainties of motherhood, reads like a novel, though you won't forget for a second that her story is true." —Pregnancy & Newborn
 
"[Hopper] is a multifaceted narrator whose complex reactions to the relentless challenges of her daughter's premature birth are raw, uncensored, unapologetic, and unladylike. . . . Ready for Air [is] a story that bucks the traditional narrative while offering women a model of what it means to be a mother and be wholly, incorrigibly yourself." —Literary Mama
 
"Hopper's memoir can be seen as a comfort to some and an explanation for others, but for her it is proof of her own strength as she writes, 'As long as I have words, I'll be strong enough.' [An] emotional, informative memoir." —Star Tribune
 
"Ready for Air looks unflinchingly at the psychological realities of learning to be a parent when other people are in a charge of a baby that can't come home." —MinnPost
 
 "This [is a] beautiful, brave book. [Hopper's] story is sure to be a crucial one for parents of premature babies, but it's also a book for anyone who has ever had her life go a bit askew. As Kate writes in her memoir, 'I followed the rules, I did what I was told, and it didn't matter.' Parenting, after all, ends up being about learning how little you can control things." —Mutha Magazine
 
"Kate writes honestly, sometimes shockingly about her journey. The good, where she finds hope and encouragement along the way. And the bad, her life threatening illness with preeclampsia, the vomit, the heartbreaking pain, and the fear. She bravely tells it all with raw emotion." —HuffPost Parents
 
"Ready for Air is an urgent memoir that plumbs the depths of the narrator's interior as she grapples with the premature birth of her daughter and with her own identity as mother. It is a book of truths that pulls back the curtain on a rarely talked about experience—preeclampsia and premature birth—and strikes a universal truth about what it means to be female in today's world." —Writing Women's Lives