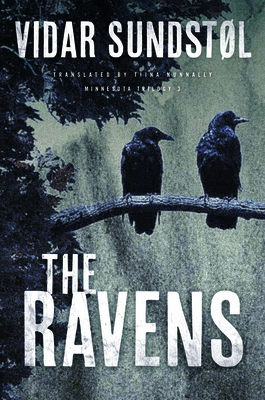 The Ravens (Hardcover)
Univ Of Minnesota Press, 9780816689446, 272pp.
Publication Date: April 15, 2015
Other Editions of This Title:
Paperback (3/1/2016)
* Individual store prices may vary.
Description
It's been a long, dark time since a gruesome discovery drew U.S. Forest Service ranger Lance Hansen into a murder investigation that is now approaching a resolution—although not to his satisfaction. In fact, the mysteries have been multiplying and getting uncomfortably close to home. On the run after a hunting expedition with his brother, Andy, went awry, Lance is haunted by visions of Swamper Caribou, the Ojibwe medicine man whose death a century earlier remains unexplained. Willy Dupree, Lance's former father-in-law, has the ability to interpret dreams—and what he reveals may be key to understanding both deaths, past and present. Reluctantly taking on the role of detective, Lance uncovers troubling connections and grim secrets that will shake him to his very core.
In the final installment of his award-winning Minnesota Trilogy, Norwegian crime writer Vidar Sundstøl's affinity for the northern world of Lake Superior is on full display—as Lance's search takes him from the wilds of the Boundary Waters to outposts steeped in voyageur history and Ojibwe culture, from the streets of the Twin Cities to the gritty port of Duluth, to the sleepy tourist towns that dot the North Shore—and as the mysteries of love and nature, history and culture merge in a powerful conclusion.

About the Author
Vidar Sundstøl is the author of seven novels, including the internationally best-selling Minnesota Trilogy, whose first two volumes, The Land of Dreams and Only the Dead, are published by the University of Minnesota Press.

Tiina Nunnally has translated more than sixty works of fiction from the Nordic languages, including Sigrid Undset's Kristin Lavransdatter, which won the PEN/Book-of-the-Month Club Translation Prize. She has translated all three volumes of the Minnesota Trilogy.
Praise For The Ravens…
"The last in Sundstøl's Minnesota Trilogy is the most like a traditional mystery while continuing the mystical images and stunning descriptions that make for a superb reading experience."—Kirkus Reviews, starred review
"Vidar Sundstøl's outstanding final entry in his acclaimed trilogy concludes the series on a satisfying note, with a succinct plot and well-developed characters. Fans of mysteries with a Minnesota setting will enjoy reading this chilling psychological thriller. Nunnally's translation is excellent and accessible to an American audience."—Library Journal
"Black shadows out of ancient Viking lore hover over this stunning concluding volume."—Publishers Weekly, starred review
"Intriguing, poetic, and unusual."—Scandinavian Crime Fiction
"Sundstøl captures the beauty and moods of the lake, forests, hills and the four seasons, interweaving them with Norse mythology and modern mysticism."—Cook County News-Herald
"The Ravens is an intriguing finale to an unusual trilogy. "—Euro Crime
"Sundstøl has a talent for drawing the reader into the characters."—Big Muddy: A Journal of the Mississippi River Valley
"Sundstøl has broken new ground in the mystery genre. "—Duluth Budgeteer