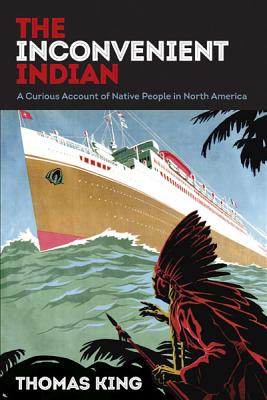 The Inconvenient Indian
A Curious Account of Native People in North America
Hardcover

* Individual store prices may vary.
Other Editions of This Title:
Paperback (1/2/2018)
Compact Disc (12/1/2018)
Compact Disc (12/1/2018)
Description
In The Inconvenient Indian, Thomas King offers a deeply knowing, darkly funny, unabashedly opinionated, and utterly unconventional account of Indian–White relations in North America since initial contact. Ranging freely across the centuries and the Canada–U.S. border, King debunks fabricated stories of Indian savagery and White heroism, takes an oblique look at Indians (and cowboys) in film and popular culture, wrestles with the history of Native American resistance and his own experiences as a Native rights activist, and articulates a profound, revolutionary understanding of the cumulative effects of ever-shifting laws and treaties on Native peoples and lands.
Suffused with wit, anger, perception, and wisdom, The Inconvenient Indian is at once an engaging chronicle and a devastating subversion of history, insightfully distilling what it means to be "Indian" in North America. It is a critical and personal meditation that sees Native American history not as a straight line but rather as a circle in which the same absurd, tragic dynamics are played out over and over again. At the heart of the dysfunctional relationship between Indians and Whites, King writes, is land: "The issue has always been land." With that insight, the history inflicted on the indigenous peoples of North America—broken treaties, forced removals, genocidal violence, and racist stereotypes—sharpens into focus. Both timeless and timely, The Inconvenient Indian ultimately rejects the pessimism and cynicism with which Natives and Whites regard one another to chart a new and just way forward for Indians and non-Indians alike.
Praise For The Inconvenient Indian: A Curious Account of Native People in North America…
No writer is better positioned than Thomas King to tell a richly Native history that reveals the common threads weaving North American patterns across the boundary line between Canada and the United States. The Inconvenient Indian sweeps up popular culture, law and policy, and the complexities of resistance and reinvention, framing all the tough issues through King's powerful storytelling and penetrating eye.—Philip J. Deloria, University of Michigan
"
The Inconvenient Indian
may well be unsettling for many non-natives in this country to read. This is exactly why we all should read it. Especially now." —
Vancouver Sun
"King uses stories to turn history upside down. Or perhaps it is more accurate to say that he presents history with a candour and honesty rarely found in usual accounts of the interaction of aboriginals and non-aboriginals." —
Winnipeg Free Press


"
The Inconvenient Indian
is couched in a plainspoken forthrightness that shocks as often as it demystifies. It is essential reading for everyone who cares about Canada and who seeks to understand native people, their issues and their dreams.Thomas King is beyond being a great writer and storyteller, a lauded academic and educator. He is a towering intellectual. For native people in Canada, he is our Twain; wise, hilarious, incorrigible, with a keen eye for the inconsistencies that make us and our society flawed, enigmatic, but ultimately powerful symbols of freedom.
The Inconvenient Indian
is less an indictment than a reassurance that we can create equality and harmony. A powerful, important book." —
Globe and Mail
"The author's wit and storytelling talent make the book easy to read; more importantly, his humor may keep readers from wanting to scream at the injustices. " —
Kirkus Reviews
"King delivers an intelligent and eye-opening overview of Native peoples in post-Columbus North America in this new volume, a book that has been a work-in-progress for most of the author's adult life. The effort shows." —
Publishers Weekly
"Dr. King's book should be required reading for anyone seeking insider insight into how Indians have been treated in Canada versus the United States." —
New York Journal of Books
"From the first page to the last,
The Inconvenient Indian
shoulders the American Indian burden of helping the White Man understand what it means to be a natural person, a human being. It is a powerful reminder of the big picture and a close look at the details - of Indian history and of contemporary Indian life." —
Indian Country Today
Univ Of Minnesota Press, 9780816689767, 272pp.
Publication Date: September 5, 2013
About the Author
Thomas King is one of Canada's premier Native public intellectuals. He was the first Aboriginal person to deliver the prestigious Massey Lectures, and he is the best-selling, award-winning author of six novels, two collections of short stories, and two nonfiction books. The Inconvenient Indian won the BC National Award for Canadian Non-Fiction and the RBC Taylor Prize. He is a recipient of the Order of Canada and lives in Guelph, Ontario.
or
Not Currently Available for Direct Purchase