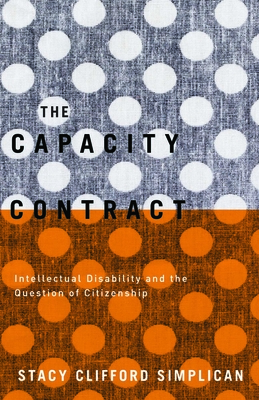 The Capacity Contract
Intellectual Disability and the Question of Citizenship
Paperback

* Individual store prices may vary.
Other Editions of This Title:
Hardcover (3/15/2015)
Description
In the first sustained examination of disability through the lens of political theory, The Capacity Contract shows how the exclusion of disabled people has shaped democratic politics. Stacy Clifford Simplican demonstrates how disability buttresses systems of domination based on race, sex, and gender. She exposes how democratic theory and politics have long blocked from political citizenship anyone whose cognitive capacity falls below a threshold level⎯marginalization with real-world repercussions on the implementation of disability rights today.
Simplican's compelling ethnographic analysis of the self-advocacy movement describes the obstacles it faces. From the outside, the movement must confront stiff budget cuts and dwindling memberships; internally, self-advocates must find ways to demand political standing without reinforcing entrenched stigma against people with profound cognitive disabilities. And yet Simplican's investigation also offers democratic theorists and disability activists a more emancipatory vision of democracy as it relates to disability⎯one that focuses on enabling people to engage in public and spontaneous action to disrupt exclusion and stigma.
Taking seriously democratic promises of equality and inclusion, The Capacity Contract rejects conceptions of political citizenship that privilege cognitive capacity and, instead, centers such citizenship on action that is accessible to all people.
Praise For The Capacity Contract: Intellectual Disability and the Question of Citizenship…
"The Capacity Contract brings much-needed insights to both political theory and disability studies. Its original analysis calls for the fuller recognition of the contributions of the intellectually disabled and their social inclusion as citizens."—Kristin Bumiller, Amherst College
"Most political theorists would agree with Rawls that citizens need to possess cognitive capacities 'within some normal range,' but Stacy Clifford Simplican argues that such a 'capacity contract' is wrong. She provokes us to disrupt these norms."—Joan Tronto, University of Minnesota
"A very interesting read."—Catholic Medical Quarterly
"Simplican presents a rich analysis of the role of capacity in classic political philosophy and offers a significant contribution to the field. "—Disability Studies Quarterly
"The Capacity Contract should be required reading not just for political theorists but for everybody conscientious about being alerted to unconscious patterns of bias and exclusion in their everyday lives and practices."—The Review of Politics
Univ Of Minnesota Press, 9780816694037, 192pp.
Publication Date: March 15, 2015
About the Author
Stacy Clifford Simplican is a postdoctoral fellow at Michigan State University and the DOCTRID Research Institute, which focuses on improving the quality of life of people with intellectual disabilities.
or
Not Currently Available for Direct Purchase