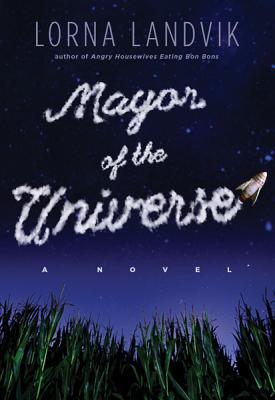 Mayor of the Universe
A Novel
Paperback

* Individual store prices may vary.
Description
A mild-mannered actuary, Fletcher Weschel lives at the crossroads of Bland and Humdrum—or so he thinks until a cosmic contest catapults him into the fantasy world he made up as a boy. Suddenly his childhood bedroom is aswarm with aliens, all bent on discovering the human who best personifies their mission—in this case, the deeply serious pursuit of fun.
Ejected from the boring comfort of his office chair, Fletcher finds himself astride the bare back of a horse, in front of a safe (that he happens to be cracking), and then . . . in the cabin of a weight-loss camp for kids? Apparently adventures come in all shapes and sizes, and it's up to Fletcher to make the most of these, conducted by his alien guide, Tandala, who takes on the corporeal form of a big-boned Jamaican and tends to get distracted by Earth's many surprising pleasures (garlic! libraries! love!).
But even fantasies can have consequences, and as Fletcher struggles through them, he is cheered and assisted by Wanda Plum, a plucky second-grade teacher who helps him realize what his ultimate role really is on this highly mysterious, infinitely marvelous pale-blue dot in a vast universe. Though its cast includes aliens, this charmed and charming book is quintessential Lorna Landvik—less about outer space than about the crowded, complex inner space of the human heart.
Praise For Mayor of the Universe: A Novel…
"This is a book about what it means to be human, as well as a perfect metaphor for the writing life—for what is the task of any writer but to create other realities for readers to revel in and explore? Lorna Landvik's story is quirky and imaginative, and Fletcher's move through these mysteries of time and space is a trip well worth taking." —Judith Guest, author of The Tarnished Eye and Ordinary People

"Smart and sweet, poignant and boisterous, devious and delightful—in short, everything we have come to expect from Lorna Landvik is fully realized in Mayor of the Universe. I might just have to read this one again." —Pete Hautman, author of Godless

"What a great gift Lorna Landvik offers readers in Mayor of the Universe. This wry and wonderfully lyrical look at the human condition is such a beautiful invitation to us to see the goodness to be found in simply enjoying life. I don't think any reader can help but come away encouraged and even a little in awe of the wisdom Landvik offers. Believe me, it's absolutely impossible not to be won over by this winsome tale." —William Kent Krueger, author of Ordinary Grace 
Univ Of Minnesota Press, 9780816694556, 296pp.
Publication Date: September 15, 2014
About the Author

Lorna Landvik is the best-selling author of many novels including Patty Jane's House of Curl, Angry Housewives Eating Bon-Bons, Oh My Stars, and most recently, Best to Laugh (Minnesota, 2014). She has performed stand-up and improvisational comedy around the country and is also a public speaker, playwright, and actor, most recently seen in an all-improvised, one-woman show Party in the Rec Room.

or
Not Currently Available for Direct Purchase