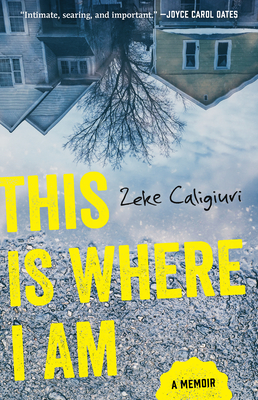 This Is Where I Am
A Memoir
Paperback

* Individual store prices may vary.
Description
Prison is where Zeke Caligiuri is. Powderhorn Park in South Minneapolis, dubbed "Murderapolis" the year he turned eighteen, is where he comes from. It was the same neighborhood his father grew up in but had changed dramatically by the early 1990s. Yet in Zeke's family, father and mother and grandmother kept things together while all around them the houses decayed and once-safe streets gave way to the crush of poverty and crime. 
This Is Where I Am is Zeke Caligiuri's clear-eyed account of how he got from there to here, how a boy who had every hope went from dreaming of freedom to losing it, along with nearly everything and everyone he loved. Tenderhearted in its reflections on his lost childhood, brutally candid in its description of a life of hanging and hustling, Zeke's memoir recreates a world of tagging and goofing gone awry, of moving from smoking pot to unsuccessful attempts at dealing crack, of watching his father weep at the funeral of a seventeen-year-old boy, of going to jail: first strike. It is a place where, when asked what he's going to do with his life, a friend can only answer: "What the fuck are you talking about?"
This Is Where I Am is Zeke's own answer: he is going to tell his story, every sharp detail and sobering word, with the natural grace of a gifted writer and the hard-won wisdom of hindsight. 
Praise For This Is Where I Am: A Memoir…
"An intimate, searing, and important document that makes no excuses for its subject's life-choices and is all the more powerful for its honesty."—Joyce Carol Oates           
"
This Is Where I Am
is a fabulous book that maps out the real lives of the city and the neighborhoods, of real hopes that die and real dreams that resurrect. For every hour of joy or sorrow the common citizen experiences, Zeke Caligiuri aptly magnifies that same hour into an eternity of lives deeply lived and feared and loved and lost. Every school, judge, counselor, and policeman ought to read this book. Read it. Read it again. Read it until you understand that how we make and shape our society is our responsibility—all of ours."—Jimmy Santiago Baca, author of
Singing at the Gates
"Zeke Caligiuri's debut memoir,
This Is Where I Am
, soulfully evokes his childhood playgrounds and present-day prison cells—and situates him as a powerful new voice in contemporary literature, a voice that is at once literary and streetwise, with an ice-cold restraint that blisters the heart."—Matt Burgess, author of
Uncle Janice
and
Dogfight, A Love Story
"Caligiuri demonstrates a willingness and ability to look back and share his experiences without judgment or ego, which makes for a fascinating and moving account of one man's incarceration and life."—Booklist
"Born and raised in the Powderhorn neighborhood, Caligiuri follows an all-too-familiar downward spiral: gang-banger friends + drugs + alcohol + guns = jail time. What is unexpected is the poetic curiosity Caligiuri exhibits in This Is Where I Am."—City Pages
"He's brutally honest. In raw yet lyrical language, he attempts to explain how a once promising life went wrong."—Star Tribune
Univ Of Minnesota Press, 9780816695720, 296pp.
Publication Date: October 11, 2016
About the Author
Zeke Caligiuri has won multiple awards from the PEN Prison Writing Contest in fiction, poetry. His work has been published in the collection Prison Noir, edited by Joyce Carol Oates, From Education to Incarceration: Dismantling the School-to-Prison Pipeline, and From the Inside Out: Letters to Young Men and Other Writings. He is incarcerated at the Faribault Correctional Facility in Minnesota, where he continues to write.
or
Not Currently Available for Direct Purchase