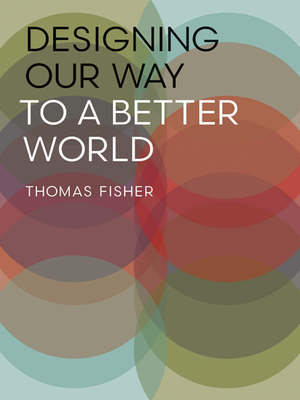 Designing Our Way to a Better World
Paperback

* Individual store prices may vary.
Other Editions of This Title:
Hardcover (5/1/2016)
Description
Envisioning what we need, when it doesn't yet exist: this, Thomas Fisher tells us, is what design does. And if what we need now is a better world—functioning schools, working infrastructure, thriving cities—why not design one? Fisher shows how the principles of design apply to services and systems that seem to evolve naturally, systems whose failures sometimes seem as arbitrary and inevitable as the weather. But the "invisible" systems we depend on for our daily lives (in education, politics, economics, and public health) are designed every bit as much as the products we buy and the environments we inhabit—and are just as susceptible to creative reimagining.
Designing Our Way to a Better World challenges the assumptions that have led to so much poor performance in the public and private realms: that our schools cannot teach creativity, that our governments cannot predict the disasters that befall us, that our health system will protect us from pandemics, that our politics will remain polarized, that our economy cannot avoid inequality, and that our industry cannot help but pollute the environment. Targeting these assumptions, Fisher's approach reveals the power of design to synthesize our knowledge about the world into greater wholes. In doing so, this book opens up possible futures—and better futures—than the unsustainable and inequitable one we now face.
Praise For Designing Our Way to a Better World…
"Though architecture theory's autonomous turn has been crumbling for some time, you can sense Tom Fisher's sledgehammer here hastening the process. Designing Our Way to a Better World takes on such expansive topics as education, environmental rescue, politics, and economics to raise our horizons for an architecture of true engagement."—Tom Spector, Oklahoma State University
"Finally! A great design thinker who truly connects the objects we put on the land with the planet below them. Thomas Fisher's breakthrough perspective challenges us to rethink almost everything—education, movement, consumption—to dramatically reshape the world each action designs."—R.T. Rybak, former mayor of Minneapolis, executive director of Generation Next, and author of Pothole Confidential: My Life as Mayor of Minneapolis
"[Designing Our Way to a Better World] tosses out ideas like a firework tosses out sparks."—Planning Magazine
"Fisher lays our a compelling case for addressing the 'wicked problems' of our day with the power of design thinking. And he does so in a voice that seeks to appeal to a general audience--not just experts in various fields. Highly recommended Reading."—Architecture Minnesota
Univ Of Minnesota Press, 9780816698882, 256pp.
Publication Date: May 1, 2016
About the Author
Thomas Fisher is the former dean of the College of Design and the new director of the Metropolitan Design Center at the University of Minnesota. He is the author of Designing to Avoid Disaster: The Nature of Fracture-Critical Design. His books The Invisible Element of Place: The Architecture of David Salmela, In the Scheme of Things: Alternative Thinking on the Practice of Architecture, and Salmela Architect are also published by the University of Minnesota Press.

or
Not Currently Available for Direct Purchase