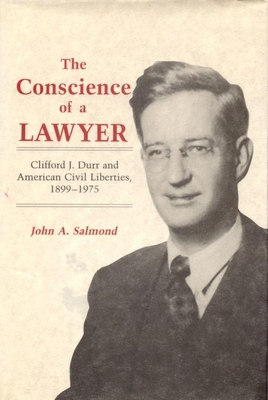 The Conscience of a Lawyer
Clifford J. Durr and American Civil Liberties, 1899–1975
Hardcover

* Individual store prices may vary.
Description
Clifford Judkins Durr was an Alabama lawyer who played an important role in defending activists and other accused of disloyalty during the New Deal and McCarthy eras. His uncompromising commitment to civil liberties and civic decency caused him to often take unpopular positions.

In 1933, Durr moved to Washington to work as a lawyer for the Reconstruction Finance Corporation, a creation of Roosevelt's new Democratic administration, becoming a dedicated New Dealer in the process. He was then appointed by President Franklin D. Roosevelt to the Federal Communications Commission (FCC), a politically sensitive position as FDR sought to counter the increasing power and concentration of broadcasters, many of whom were opponents of the New Deal. Durr resigned from the FCC in 1948 and after brief employment with the National Farmers Union in Colorado, the Durrs eventually returned to Montgomery, Alabama in the hope of returning to a more prosperous, less controversial life.

Durr continued to practice in Montgomery as counsel for black citizens whose rights had been violated and ultimately, in December, 1955, when police arrested Rosa Parks for refusing to give her bus seat to a white man he stepped in and lent his extensive legal prowess to her case and the continuing quest for civil rights. Closing his firm in 1964 Durr began to lecture in the United States and abroad. He died at his grandfather's farm in 1975
 
Praise For The Conscience of a Lawyer: Clifford J. Durr and American Civil Liberties, 1899–1975…
"This book is well-researched and provides much inside information about Washington in the New Deal era and about the New Deal itself. The experience of the Durrs during the McCarthy era attests to the horrors of that period. It also tells much about the plight of Southern moderates during the Civil Rights era."
—James C. Cobb, University of Tennessee-Knoxville
 

"Although Durr's family, social, and political connections undoubtedly eased his way, his way was not easy. The Conscience of a Lawyer makes it clear that Durr was, above all, a decent and honest man who had the courage of his convictions."
—Journal of Southern History
 
University Alabama Press, 9780817304539, 280pp.
Publication Date: June 15, 1990
About the Author
John A. Salmond (1937–2013) is Emeritus Professor of History at La Trobe University, Australia. He is author of Southern Struggles: The Southern Labor Movement and the Civil Rights Struggle and The Southern Rebel: The Life and Times of Aubrey Willis Williams, 1890–1965, and many more.
or
Not Currently Available for Direct Purchase