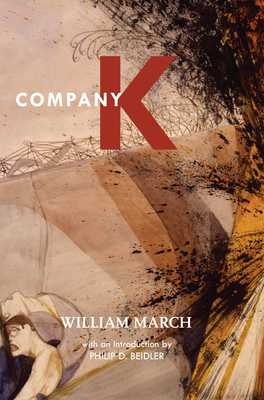 Company K (Library of Alabama Classics)
Paperback

* Individual store prices may vary.
Description
With an Introduction by Philip D. Beidler

This book was originally published in 1933. It is the first novel by William March, pen name for William Edward Campbell. Stemming directly from the author's experiences with the US Marines in France during World War I, the book consists of 113 sketches, or chapters, tracing the fictional Company K's war exploits and providing an emotional history of the men of the company that extends beyond the boundaries of the war itself.

William Edward Campbell served courageously in France as evidenced by his chestful of medals and certificates, including the Croix de Guerre, the Distinguished Service Cross, and the Navy Cross. However, without the medals and citations we would know of his bravery. For it is clear in the pages of Company K that this book was written by a man who had been to war, who had clearly seen his share of the worst of it, who had somehow survived, and who had committed himself afterward to the new bravery of sense-making embodied in the creation of major literary art. It is of that bravery that we still have the record of magnificent achievement, the brave terrible gift of Company K.
Praise For Company K (Library of Alabama Classics)…
"A rich novel, . . . the outstanding virtues of March's work are those of complete lack of sentimentality and routine romanticism, of a dramatic gift constantly heightened and sharpened by eloquence of understatement."
—New York Times
"A sardonic minor masterpiece on World War I, . . . Company K observes all the antiheroic conventions of the between-wars decades; yet author March was himself a Marine Corps noncom wounded three times, who won a D.S.C., Navy Cross, and Croix de Guerre, and had every right to the bitter pity with which he wrote his novel. Among its 113 characters, every military type is represented—the good soldier, the coward, the goldbrick, the rank-happy shavetail, the lucky, and the wound-prone. Each is caught in one lurid moment of his life, as if March had composed by the light of a Very pistol."
—Time
"March's book has the force of a mob-protest; an outcry from anonymous throats. It is the only War-book I have read which has found a new form to fit the novelty of the protest. The prose is bare, lucid, without literary echoes."
—Graham Greene in The Spectator
University Alabama Press, 9780817304805, 288pp.
Publication Date: October 24, 1989
About the Author
A native of Mobile, AL, William March (1893-1954) studied law at The University of Alabama. After serving in the US Marine Corps during World War I, he worked as an executive with the Waterman Steamship Corporation and published novels and short stories. Writer and critic Alistair Cooke described March as "the unrecognized genius of our time." Philip D. Beidler is Professor of English at The University of Alabama and author of Rewriting America: Vietnam Authors in their Generation.
or
Not Currently Available for Direct Purchase