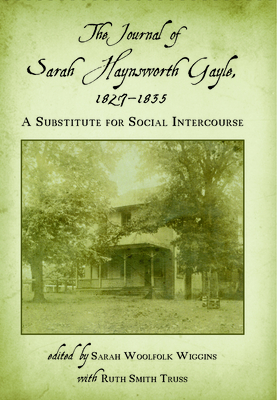 The Journal of Sarah Haynsworth Gayle, 1827-1835 (Hardcover)
A Substitute for Social Intercourse
University Alabama Press, 9780817313333, 384pp.
Publication Date: November 5, 2013
* Individual store prices may vary.
Description
Astonishing, tragic, and remarkable, the journal of Sarah Haynsworth Gayle, wife of early Alabama governor John Gayle, is among the most widely studied and seminal accounts of antebellum life in the American South. This is the first complete edition of the journal in print.
Bereft of the companionship of her often-absent husband, Sarah considered her journal "a substitute for social intercourse" during the period from 1827 to 1835. It became the social and intellectual companion to which she confided stories that reflected her personal life and the world of early Alabama. Sarah speaks directly to us of her loneliness, the challenges of child rearing, her fear of and frustration with the management of slaves, and the difficulty of balancing the responsibilities of a socially prominent woman with her family's slender finances.
The poor condition of the journal and its transcripts, sometimes disintegrated or reassembled in the wrong order, has led historians to misinterpret Gayle's words. Gayle's descendants, Alabama's famed Gorgases, deliberately obscured or defaced many passages. Using archival techniques to recover the text and restore the correct order, Sarah Wiggins and Ruth Truss reveal the unknown story of Sarah's economic hardships, the question of her husband's "temperance," and her opium use.
The only reliable and unexpurgated edition of Sarah Gayle's journal, now enhanced with a fascinating introduction and inset notes, The Journal of Sarah Haynsworth Gayle, 1827-1835, is a robust and gripping account and will be of inestimable value to our understanding of antebellum society, religion, intellectual culture, and slavery.
Published in cooperation with the University Libraries, The University of Alabama, with further financial support from the Library Leadership Board, the University Libraries, The University of Alabama.
About the Author
Sarah Woolfolk Wiggins is professor emerita of history at the University of Alabama, a past president of the Alabama Historical Association, and editor of the Alabama Review for twenty years. She is the author or editor of The Scalawag in Alabama Politics, 1865-1881; From Civil War to Civil Rights--Alabama 1860-1960; The Journals of Josiah Gorgas, 1857-1878; and Love and Duty: Amelia and Josiah Gorgas and Their Family. Ruth SmithTruss is a professor of history and department chairman at the University of Montevallo, has published several articles related to Alabama history, is president of the Friends of the Alabama Archives, and served on the board of directors of the Alabama Historical Association.
Praise For The Journal of Sarah Haynsworth Gayle, 1827-1835: A Substitute for Social Intercourse…
"This lively and engaging journal is a much needed addition to the literature. It offers an insight into the world of women in the Old South and the struggles of a wife of a relatively absent husband immersed in Alabama politics. Her words bring into high relief the joys and sorrows of raising children, caring for kin, and maintaining social ties. Gayle's journal, moreover, provides important digressions of her memories growing up and past encounters with those who came in and out of her life. In that vein, her detailed descriptions of her relationships with other women add to the historiography on the creation of a female culture distinct from the world of men." — Victoria E. Ott, author of Confederate Daughters: Coming of Age during the Civil War
or
Not Currently Available for Direct Purchase