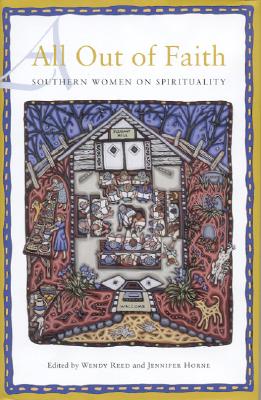 All Out of Faith: Southern Women on Spirituality (Hardcover)
Southern Women on Spirituality
University Alabama Press, 9780817315344, 216pp.
Publication Date: September 1, 2006
* Individual store prices may vary.
or
Not Currently Available for Direct Purchase
Description
H. L. Mencken first identified the South as the Bible Belt in the 1920s. To be sure, religion shapes and defines even those Southerners who don t think of themselves as particularly religious. Practically no one who grows up Southern can escape being shaped, stimulated, harmed, or informed by religion and spirituality."All Out of Faith "gives voice to southern women writers who represent a broad spectrum of faiths, Catholic to Baptist, Jewish to Buddhist, and points in between. These essays and stories revea; that southern culture has always reserved a special place for strong women of passion.Frances Mayes and Barbara Kingsolver investigate the importance of place. Dorothy Allison, among others, writes of the transformative power of art; in her case, of a painting of Jesus she loved as a child. Lee Smith is one of several women who write of religious fervor; she recalls the excitement of being saved, not once but many times, until her parents made her stop. Vicki Covington and Mab Segrest describe their conflicts between faith and sexuality. Pauli Murray, the first black female Episcopal priest, and Jessica Roskin, who became a Jewish cantor, tell of remaining within their original religious tradition while challenging their traditional roles.Contributors: Shirley Abbott, Dorothy Allison, Vicki Covington, Susan Ktchin, Sue Monk Kidd, Cassandra King, Barbara Kingsolver, Frances Mayes, Diane McWhorter, Pauli Murray, Sena Jeter Naslund, Sylvia Rhue, Jessica Roskin, Mab Segrest, Lee Smith, Jeanie Thompson, Jan Willis.
About the Author
Wendy Reed is Producer-Director at The University of Alabama Center for Public Television.Jennifer Horne is the editor of "Working the Dirt: An Anthology of Southern Poets "and the poetry book-review editor for "First Draft, "the journal of the Alabama Writers Forum."
Praise For All Out of Faith: Southern Women on Spirituality…
"All Out of Faith is about going away from God and coming back again, birth and death, renewal. This is a wonderful collection of stories about faith and love. I thought that I could pick out my favorite, but I couldn't put one before another."—Barbara Robinette Moss, author of Fierce and Change Me Into Zeus's Daughter
Advertisement