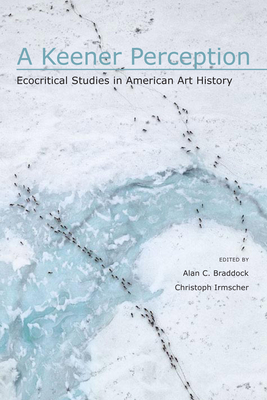 A Keener Perception (Hardcover)
Ecocritical Studies in American Art History
University Alabama Press, 9780817316686, 316pp.
Publication Date: November 15, 2009
Other Editions of This Title:
Paperback (11/15/2009)
* Individual store prices may vary.
Description
A landmark collection of essays on the intersections of visual art, cultural studies, and environmental history in America.

Issues of ecology--both as they appear in the works of nature writers and in the works of literary writers for whom place and the land are central issues--have long been of interest to literary critics, and have given rise over the last two decades to the now firmly established field of ecocriticism. The essays in this volume, written by art historians and literary critics, seek to bring the study of American art into the expanding discourse of ecocriticism.

A Keener Perception offers a series of case studies on topics ranging from John White's watercolors of the Carolina landscape executed during Sir Walter Raleigh's 1585 Roanoke expedition to photographs by environmental activist Eliot Porter. Rather than merely resurrect past instances of ecologically attuned art, this volume features essays that resituate many canonical figures, such as Thomas Eakins, Aaron Douglas, and Thomas Cole, in an ecocritical light by which they have yet to be viewed. Studying such artists and artworks through an ecocritical lens not only provides a better understanding of these works and the American landscape, but also brings a new interpretive paradigm to the field of art history--a field that many of these critics believe would do well to embrace environmental concerns as a vital area of research.

In highlighting the work of scholars who bring ecological agendas to their study of American art, as well as providing models for literary scholars who might like to better incorporate the visual arts into their own scholarship and teaching, A Keener Perception is truly a landmark collection--timely, consequential, and controversial.





About the Author
Alan C. Braddock is Assistant Professor of Art History at Temple University where he teaches courses on American art from the Colonial era to the present. He is also the author of Thomas Eakins and the Cultures of Modernity.
Christoph Irmscher is Professor of English and Adjunct Professor of History and Philosophy of Science and American Studies at Indiana University in Bloomington. He is the author of Longfellow Redux, The Poetics of Natural History, and Public Poet, Private Man.
Contributors: Janet Catherine Berlo / Alan C. Braddock / Lawrence Buell / Finis Dunaway / Thomas Hallock / Elizabeth Hutchinson / Christoph Irmscher / Jonathan Massey / Angela L. Miller / Jeffrey Myers / Rebecca Solnit / Timothy Sweet / Mark Andrew White
Praise For A Keener Perception: Ecocritical Studies in American Art History…
Normal0falsefalsefalseMicrosoftInternetExplorer4
"I have been waiting for a book like this to come out for most of my academic career. The essays in A Keener Perceptionprovide an important framework for emerging discussions around the ecocritical study of art and visual culture. The authors offer such rich and detailed visual analyses."—The Goose
Normal0falsefalsefalseMicrosoftInternetExplorer4
"The introduction and twelve essays in this strong volume consider intriguing instances of American art that span more than four centuries. . . . Every essay here is both interesting and a pleasure to read. . . . Rich enough to repay multiple readings and likely to be loaned to many a student and colleague, this book about American visual culture is well worth its price." —ISLE
or
Not Currently Available for Direct Purchase