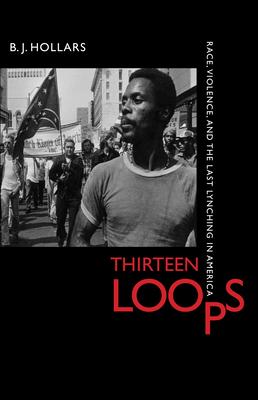 Thirteen Loops: Race, Violence, and the Last Lynching in America (Hardcover)
Race, Violence, and the Last Lynching in America
University Alabama Press, 9780817317539, 249pp.
Publication Date: September 6, 2011
Description
Thirteen Loops: Race, Violence, and the Last Lynching in America recounts the story of three innocent victims, all of whom suffered violent deaths through no fault of their own: Vaudine Maddox in 1933 in Tuscaloosa, Sergeant Gene Ballard in 1979 in Birmingham, and Michael Donald in 1981 in Mobile. The death of Vaudine Maddox--and the lynchings that followed--serves as a cautionary tale about the violence that occurred in the same region nearly fifty-years later, highlighting the cowardice, ignorance, and happenstance that sustained a culture of racial intolerance far into the future. Nearly half a century later, after a black bank robber was acquitted for the murder of police Sergeant Gene Ballard, two Klansmen took it upon themselves to exact revenge on an innocent victim--nineteen-year-old African American Michael Donald. Donald's murder--deemed the last lynching in America--reignited the race debate in America and culminated in a courtroom drama in which the United Klans of America were at long last put on trial. While tracing the relationships among these murders, B. J. Hollars's research led him deep into the heart of Alabama's racial, political, and legal landscapes. A work of literary journalism, Thirteen Loops draws upon rarely examined primary sources, court documents, newspaper reports, and first-hand accounts in an effort to unravel the twisted tale of a pair of interconnected murders that forever altered United States' race relations.
About the Author
B.J. Hollars is the editor of You Must Be This Tall To Ride: Contemporary Writers Take You Inside The Story. He received his M.F.A in Creative Writing from The University of Alabama and has published in North American Review, Ninth Letter, and The Southeast Review, among others. He is an assistant professor of creative writing at the University of Wisconsin-Eau Claire.
Praise For Thirteen Loops: Race, Violence, and the Last Lynching in America…
"Through newspaper accounts and copious interviews, Hollars has wrought a highly stylized . . . account of the murder [of Michael Donald] and its aftermath, with discussions of two other homicides. . . . However, the substantive central narrative justifies the effort of following these twists and turns. Hollars compares Donald's legacy to those of Emmett Till, Rosa Parks, James Meredith, and Martin Luther King Jr. Though this might be a stretch, Donald's life and death are certainly worth remembering."--Publishers Weekly


"Hollars puts a creative spin on his analysis of three lynching cases in the American South . . . With meticulous detailing, the author describes the three cases, individually and, in concluding updates, how they coalesce. . . . Hollars' text is scholarly and comprehensive but delivered in a fresh, far-from-dry journalistic style. . . . The author is also quite astute at drawing meaningful comparisons. He discusses Donald's lynching in 1981 alongside the murder of gay man Matthew Shepard in 1998, each established as a 'hate crime' and further solidifying the terminology in police work and legislation alike. A creatively written, edifying work of historical significance and a boon for those interested in Southern race relations."—
Kirkus Reviews
"Thirteen Loops
[is] a cogent and valuable history, documented extensively in a lengthy bibliography; it is an important academic document. It is more than that, though. It is written in story form, conversationally, as though recounted by a friend, and this form makes it a very personal experience to read. It makes
Thirteen Loops
one of those rare books that is impossible to put down, that is transformative, that will remain forever in memory."
--Haydens Ferry Review
Advertisement