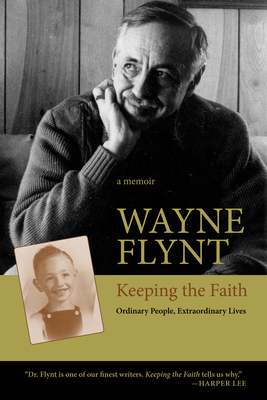 Keeping the Faith (Hardcover)
Ordinary People, Extraordinary Lives (Religion & American Culture)
University Alabama Press, 9780817317546, 400pp.
Publication Date: September 2, 2011
Description
This historical memoir by the widely recognized scholar, Wayne Flynt, chronicles the inner workings of his academic career at Samford and Auburn Universities, as well as his many contributions to the general history of Alabama. Flynt has traveled the state and the South lecturing and teaching both lay and academic groups, calling on his detailed knowledge of both the history and power structures in Alabama to reveal uncomfortable truths wherever he finds them, whether in academic institutions that fall short of their stated missions, in government and industry leaders who seek and hold power by playing to the fears and prejudices of the public, or in religious groups who abandon their original missions and instead seek financial and emotional comfort in lip service only.In doing so he has not only energized those who think the State of Alabama can and must do better, but also has earned the enmity of those who prosper, profit, and prevaricate for their own selfish ends. Nevertheless, Flynt utilizes a lifetime of learning and reflection to voice the conscience of his community. Keeping the Faith: Ordinary People, Extraordinary Lives tells the story of his life and his courageous battles against an indifferent or hostile hierarchy with modesty and honesty. In doing so he tells us how Alabama institutions really are manipulated and, more importantly, why we should care.

About the Author
Wayne Flynt is a Distinguished University Professor of History at Auburn University and author or coauthor of eleven books, including Alabama in the Twentieth Century; Alabama Baptists: Southern Baptists in the Heart of Dixie; Poor But Proud: Alabama's Poor Whites; Alabama: The History of a Deep South State; and Taking Christianity to China: Alabama Missionaries in the Middle Kingdom, 1850-1950. He has been recognized with numerous awards and honors, including the Lillian Smith Book Award, the Clarence Cason Award in Nonfiction Writing, the James F. Sulzby Book Award (twice), and the Alabama Library Association Award for nonfiction (twice)."
Praise For Keeping the Faith: Ordinary People, Extraordinary Lives (Religion & American Culture)…
"Dr. Flynt is one of our finest writers. Keeping the Faith tells us why."--Harper Lee, author of To Kill a Mockingbird



"Wayne Flynt is unconcerned with whitewashing -- in his life, and in his state -- and that gives
Keeping the Faith
a kind of double-barreled power and beauty. This is a lovely memoir by a boy born between the Great Depression and a great war, to imperfect but never dull people who lived, like most of our people, between love and hate and faith and whiskey. But it is much more. It is the eye-witness account and intellectual examination of a state at war with itself for generations, a story of broken institutions, and failed, doomed ideals. Wayne Flynt chose to make his life here, not carping from the sidelines but working from within. You can hear a heart breaking in this book, as you turn the pages, but this a man of faith, and a story of it."—Rick Bragg, Pulitzer Prize-winning author of
Somebody Told Me
"A must read for every Alabamian. As an acclaimed historian, Flynt tells the story of a state and a people from a very unique perspective. By writing about his family and own life, we get to know the unvarnished truth of Alabama. Here you'll meet the good, the bad, and the ugly. An insightful, fascinating and terrific book. Highly recommended. -- Ace Atkins, author of 
Wicked City
Advertisement