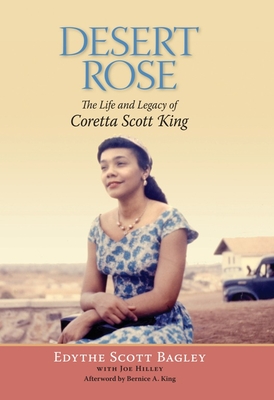 Desert Rose (Hardcover)
The Life and Legacy of Coretta Scott King
University Alabama Press, 9780817317652, 336pp.
Publication Date: April 27, 2012
* Individual store prices may vary.
Description
Desert Rose details Coretta Scott King's upbringing in a family of proud, land-owning African Americans with a profound devotion to the ideals of social equality and the values of education, as well as her later role as her husband's most trusted confidant and advisor.
About the Author
Edythe Scott Bagley, education pioneer, activist, and sister of Coretta Scott King, was born and raised just north of Marion, Alabama.  She enrolled at Antioch College in 1943, becoming the first African American student. Bagley earned a master's degree in English from Columbia University and an MFA in theatre arts from Boston University. She taught at Albany State College in Georgia and Norfolk State University in Virginia, and in 1971 joined the faculty of Cheyney State College, where she was the leading force behind establishing the theatre and arts major.
Edythe served as an active member of the board of directors for the Atlanta-based King Center from its founding in 1968. She also represented her sister as a speaker and made radio and television appearances on behalf of the Martin Luther King Jr. Center for Nonviolent Social Change. Bagley passed away in June of 2011.
Praise For Desert Rose: The Life and Legacy of Coretta Scott King…
"Desert Rose is a must-read for anyone interested in learning about the first family of the Civil Rights Movement. This book offers an insightful look at the life of Coretta Scott King, and by default the life of Dr. King, from a unique and rare perspective. It provides an excellent ground-level view of African American life in Perry County and in Alabama's Black Belt." —Hasan Kwame Jeffries, author of Bloody Lowndes: Civil Rights and Black Power in Alabama's Black Belt
"Coretta Scott King, like so many women during the Civil Rights Movement, has never gotten her just due other than being Mrs. Rev. Dr. Martin Luther King Jr. But her work and leadership was just as instrumental in advancing the cause of Black folk. Desert Rose puts the light on Coretta and her family, and allows us to revel in the courageous work of a remarkable family, and definitely a strong and fearless woman like Coretta Scott King."
--- Roland S. Martin, nationally syndicated columnistand author of Speak, Brother! A Black Man's View of America
Normal0falsefalsefalseMicrosoftInternetExplorer4
"It is difficult to think of a person more qualified to write a biography of Coretta Scott King than her older sister, Edythe S. Bagley. An accomplished scholar and writer, Bagley creates in Desert Rose: The Life and Legacy of Coretta Scott King, a portrait not just of her younger sister who grew up to play a large role in the nation's history, but of the family that produced and nurtured Coretta and sent her proudly out into the world to assume her rightful place. As scholars and historians begin to do the necessary work on the life of Mrs. King and her unique individual contributions to progressive movements in this country--both before and after the death of her husband, Dr. Martin Luther King Jr.--they will find in Desert Rose a loving portrait, filled with anecdotes, family stories, historical footnotes, and memories only a sister could provide. For those who want a closer look at an extraordinary woman, Desert Rose: The Life and Legacy of Coretta Scott King will provide that intimate glance with great affection, deep understanding, and amazing grace."
--- Pearl Cleage, author of Till You Hear From Me and the play A Song for Coretta