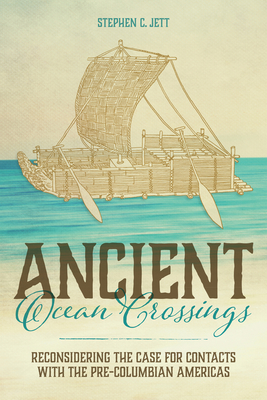 Ancient Ocean Crossings
Reconsidering the Case for Contacts with the Pre-Columbian Americas
Hardcover

* Individual store prices may vary.
Description
Paints a compelling picture of impressive pre-Columbian cultures and Old World civilizations that, contrary to many prevailing notions, were not isolated from one another
 
In Ancient Ocean Crossings: Reconsidering the Case for Contacts with the Pre-Columbian Americas, Stephen Jett encourages readers to reevaluate the common belief that there was no significant interchange between the chiefdoms and civilizations of Eurasia and Africa and peoples who occupied the alleged terra incognita beyond the great oceans.
 
More than a hundred centuries separate the time that Ice Age hunters are conventionally thought to have crossed a land bridge from Asia into North America and the arrival of Columbus in the Bahamas in 1492. Traditional belief has long held that earth's two hemispheres were essentially cut off from one another as a result of the post-Pleistocene meltwater-fed rising oceans that covered that bridge. The oceans, along with arctic climates and daunting terrestrial distances, formed impermeable barriers to interhemispheric communication. This viewpoint implies that the cultures of the Old World and those of the Americas developed independently.
 
Drawing on abundant and concrete evidence to support his theory for significant pre-Columbian contacts, Jett suggests that many ancient peoples had both the seafaring capabilities and the motives to cross the oceans and, in fact, did so repeatedly and with great impact. His deep and broad work synthesizes information and ideas from archaeology, geography, linguistics, climatology, oceanography, ethnobotany, genetics, medicine, and the history of navigation and seafaring, making an innovative and persuasive multidisciplinary case for a new understanding of human societies and their diffuse but interconnected development.
 
Praise For Ancient Ocean Crossings: Reconsidering the Case for Contacts with the Pre-Columbian Americas…
"[ . . . ] this is an impressive and important book that brings together a large body of evidence for pre-Columbian transoceanic contacts, occurring on multiple occasions across different periods, and on both shores of the continent."
—Journal of Pacific History
 
"Evidence for pre-Columbian contact with the Americas has long been debated in academic and non-academic circles. Geographer Jett, a major scholar of contact across the Atlantic and Pacific oceans, provides an exhaustive discussion of the evidence in support of diffusion of a wide variety of items flowing into and out of the Americas by boat. This 508-page well-researched and written book has 33 pages of notes and a 60-page bibliography. For those interested in pre-1492 long-distance travel and contact over the world's oceans, this book is a must. Essential."
—CHOICE
 
"Overall, the entire book is an excellent example of academic erudition and powerful insight, presenting the case for long-distance ocean travel in the past, contributing to rethink our suppositions, and contradicting the paradigm that is widely accepted today. A 'must read' for all interested in navigation, long-distance contact and the rewriting of history."
—International Journal of Nautical Archaeology
 
"An extraordinary study that is exceptionally well researched, written, organized and presented, Ancient Ocean Crossings: Reconsidering the Case for Contacts with the Pre-Columbian Americas is a seminal work of outstanding scholarship that is unreservedly recommended for both community and academic library collections."
—Midwest Book Review Bookwatch
 

"Ancient Ocean Crossings is a stupendous work, one chock full of exciting ideas and fascinating facts about the cultural history of the world. The work gives new meaning to the expression tour de force."
—Daniel W. Gade, author of Curiosity, Inquiry, and the Geographical Imagination and Nature and Culture in the Andes
 
"By most accounts, the heyday of scholarly explanations of cultural origins and change involving early transoceanic diffusion has long passed. Stephen Jett's massive reprise of themes long dormant, along with new evidentiary material, could force major reconsideration of specific cases as well as general propositions. Jett makes the case(s) for early transoceanic diffusion with unprecedented clarity and thoroughness."
—Kent Mathewson, coeditor of Carl Sauer on Culture and Landscape: Readings and Commentaries
 
University Alabama Press, 9780817319397, 528pp.
Publication Date: June 6, 2017
About the Author
Stephen C. Jett holds a PhD in geography from Johns Hopkins University and is professor emeritus of geography and of textiles and clothing at the University of California, Davis. He has authored books on Navajo culture and is the founding editor of Pre-Columbiana: A Journal of Long-Distance Contacts.