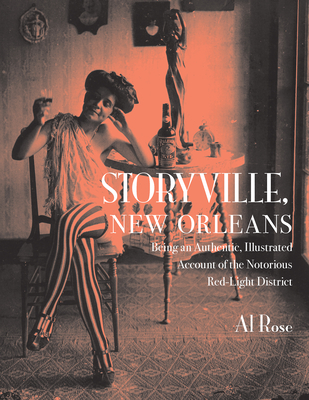 Storyville, New Orleans
Being an Authentic, Illustrated Account of the Notorious Red-Light District
Paperback

* Individual store prices may vary.
Other Editions of This Title:
Paperback (10/1/1974)
Description
A true-to-life impression of Storyville, the only legally established red light district in the US

At the turn of the twentieth-century, there were hundreds of red-light districts in the United States, ranging in size from a discreet "house" or two in or near small towns and cities to block after bawdy block of brothels in larger cities such as Chicago and San Francisco. Storyville, New Orleans: Being an Authentic, Illustrated Account of the Notorious Red Light District seeks to offer the reader a reasonably true-to-life impression of Storyville, the most famous of the large districts and the only such district in the United States that was legally established.

Storyville was an area, carefully defined by law, outside of which prostitutes or women "notoriously abandoned to lewdness" were not permitted to live or work. Prostitutes working within the District were considered to be engaged in legal enterprises so long as they confined themselves to prostitution and other related activities such as dispensing food and drink to their customers.

From the early days of the French colony of Louisiana, a great number of prostitutes, women from correctional centers, and those with so-called "loose morals" were transported to the New World, resulting in a large proportion of the earliest female residents in New Orleans engaging in prostitution. During the course of Storyville's legal existence from January 1, 1898 to November 12, 1917—it is evident that in establishing this district the New Orleans city council acted out of a sense of frustration after decades of attempting to deal rationally with a serious social problem. As the author says in the preface, "You may see this as a disorderly book about disorderly houses—and so it may be. But I doubt you will find it dull."
 
Praise For Storyville, New Orleans: Being an Authentic, Illustrated Account of the Notorious Red-Light District…
"Al Rose is the first to research fully and set down, no holds barred, the entire story of the legendary New Orleans red-light district from beginning to end . . . . Frank but never salacious, Rose's book is shocking only in the closing seven taped 'reminiscences' of surviving madams, whores, and others."
—Publishers Weekly

"A convincing and lively picture of Storyville as it really was."
—The Book Exchange (London)

"The book is well-written and has a fast, joyfully loose, innovative pace—like one of Jelly Roll Morton's ragtime performances. . . . You can almost get the feeling that if you went down to Canal and Basin streets and walked a block or two downtown, you might just find the district still there, and the tinkle of beer glasses and piano keys coming out of the open doors of the nearest saloon."
—Louisiana History

"Taped interviews with Storyville 'survivors' are frankly irresistible—and irresistibly frank."
—Chicago Tribune

"This is the true story of the quarter, complete and unabridged. . . . Compelling reading."
—Jazz Journal
University Alabama Press, 9780817344030, 240pp.
Publication Date: December 17, 1997