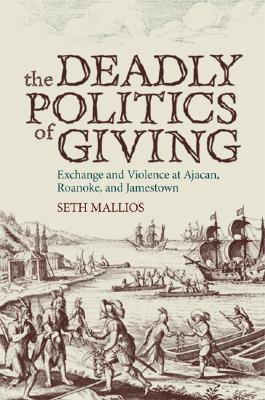 The Deadly Politics of Giving (Paperback)
Exchange and Violence at Ajacan, Roanoke, and Jamestown
University Alabama Press, 9780817353360, 168pp.
Publication Date: August 20, 2006
* Individual store prices may vary.
Description
A clash of cultures on the North American continent.
With a focus on indigenous cultural systems and agency theory, this volume analyzes Contact Period relations between North American Middle Atlantic Algonquian Indians and the Spanish Jesuits at Ajacan (1570–72) and English settlers at Roanoke Island (1584–90) and Jamestown Island (1607–12). It is an anthropological and ethnohistorical study of how European violations of Algonquian gift-exchange systems led to intercultural strife during the late 1500s and early 1600s, destroying Ajacan and Roanoke, and nearly destroying Jamestown.
About the Author
Seth Mallios is Associate Professor of Anthropology at San Diego State University and Director of the South Coastal Information Center, California Office of Historic Preservation, in San Diego. Author of many journal articles and chapters in edited volumes, this is his first book.
Praise For The Deadly Politics of Giving: Exchange and Violence at Ajacan, Roanoke, and Jamestown…
"Mallios (anthropology, San Diego State Univ.) adds a new dimension to understandings of early North American colonization efforts in his anthropological examination of the three earliest European settlements in the greater Chesapeake region. The author uses gift exchange--in particular, the many layers of meaning in exchanging and trading goods--as his lens for exploring cultural differences. He finds that Europeans and Native Americans possessed dramatically different understandings of exchange, with often-fatal consequences. Seeing most exchanges as gifts, Natives reacted angrily when their offerings of food were not reciprocated by the metal goods they desired. Coming from a commodity-based system, Europeans sought to trade rather then explicitly give. Mallios cites repeated violations of gift protocol in each settlement as a major cause of Native hostility and finally violence toward the Europeans. The author offers an insightful anthropological reading of the relevant primary sources. As such, his book is a nice addition to the growing literature on Jamestown and other early Colonial efforts. Still, most historians and students would find James Horn's A Land as God Made It (CH, Jun'06, 43-6098) more useful.  Summing Up: Recommended. Upper-division undergraduates and above."
— CHOICE

"Mallios presents a fascinating study of early relations between Native Americans and Europeans at Ajacan, Roanoke, and Jamestown that will have wide appeal among anthropologists, historians, ethnohistorians, and archaeologists. An excellent book!"— Heather Lapham, Southern Illinois University Carbondale
or
Not Currently Available for Direct Purchase