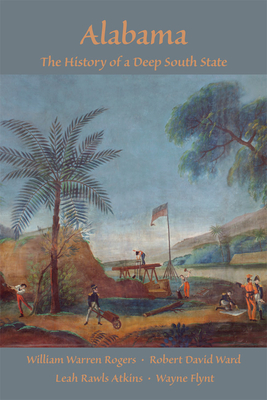 Alabama: The History of a Deep South State (Paperback)
The History of a Deep South State
University Alabama Press, 9780817355982, 707pp.
Publication Date: March 3, 2010
* Individual store prices may vary.
or
Not Currently Available for Direct Purchase
Description
Once the home of aboriginal inhabitants, Alabama was claimed and occupied by European nations, later to become a permanent part of the United States. A cotton and slave state for more than half of the 19th century, Alabama declared its independence and joined another nation, the Confederate States of America, for its more than four-year history. The state assumed an uneasy and uncertain place in the 19th century's last 35 years. Its role in the 20th century has been tumultuous but painfully predictable. This comprehensive history, written in the last decade of that century, presents, explains, and interprets the major events that occurred during Alabama's history within the larger context of the South and the nation. Alabama: The History of a Deep South State is the first completely new comprehensive account of the state since A.B. Moore's 1935 work. Divided into three main sections, the first concluding in 1865, the second in 1920, and the third bringing the story to the present, the book's organization is both chronological and topical. General readers will welcome this modern history of Alabama, which examines such traditional subjects as politics, military events, economics, and broad social movements. Of equal value are sections devoted to race, Indians, women, and the environment, as well as detailed coverage of health, education, organized labor, civil rights, and the many cultural elements--from literature to sport--that have enriched Alabama's history. The roles of individual leaders, from politicians to creative artists, are discussed. There is as well strong emphasis on the common people, those Alabamians who have been rightly described as the "bone and sinew" of the state. Each section of the book was written by a scholar who has devoted much of his or her professional life to the study of that period of Alabama's past, and although the three sections reflect individual style and interpretation, the authors have collaborated closely on overall themes and organization. The result is an objective look at the colorful, often controversial, state's past. The work relies both on primary sources and such important secondary sources as monographs, articles, and unpublished theses and dissertations to provide fresh insights, new approaches, and new interpretations.
About the Author
William Warren Rogers, a native of Greenville, is a retired Professor of History at The Florida State University. The late Robert David Ward, born in Montevallo, was Professor Emeritus of History at Georgia Southern University. Leah Rawls Atkins, a native of Birmingham, is Director Emerita of the Carol Marshall Draughon Center for the Arts and Humanities at Auburn University. Wayne Flynt, was born in Mississippi and grew up in Dothan and Anniston, is Distinguished University Professor Emeritus at Auburn University.
Praise For Alabama: The History of a Deep South State…
"Fresh, compelling, insightful—the authoritative Alabama history for today's readers and those of the 21st century." –
Virginia Van der Veer Hamilton, University of Alabama at Birmingham
"This work is authoritative, yet entertaining. Alabamians will not only understand their own rich heritage; they will experience anew the complex forces that have made Alabama what it is today." –
Kenneth R. Johnston, University of North Alabama
"Alabama history enthusiasts, teachers, and practictioners are encouraged to update tehir libraries with this new edition."--Stephen Goldfarb for
Alabama Heritage
Advertisement