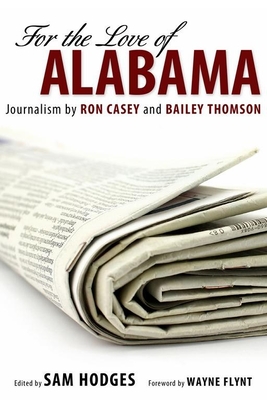 For the Love of Alabama (Paperback)
Journalism by Ron Casey and Bailey Thomson
University Alabama Press, 9780817356668, 174pp.
Publication Date: August 2, 2011
* Individual store prices may vary.
or
Not Currently Available for Direct Purchase
Description
Normal0falsefalsefalseMicrosoftInternetExplorer4
For the Love of Alabama
is a compilation of the most poignant and trenchant writing--editorials, reportage, and columns--by two of Alabama's most committed and reform-minded journalists. Ron Casey and Bailey Thomson both died young: Casey at forty-eight and Thomson at fifty-four. Nevertheless, through their work at the
Birmingham News
and the
Mobile Press-Register
, respectively, they labored tirelessly to illuminate and confront the state's chronic and interrelated problems of race, government, education, and poverty. Both journalists attended The University of Alabama shortly after George Wallace stood in the schoolhouse door, and their subsequent work tackled the tumultuous politics of that era. Casey and Thomson soon became voices of statewide reform movements. As such, they attacked the 1901 Constitution for its stagnating effects on the laboring class, race relations, education, and healthcare; allowances for special-interest influence; and impediments to fair taxes--an ongoing crusade that spawned, among much other work, Casey's Pulitzer Prize-winning series of editorials "What They Won't Tell You About Your Taxes" and Thomson's series "Dixie's Broken Heart," which won the Distinguished Writing Award from the American Society of Newspaper Editors. Compiled here are the writings that challenged not only the en- trenched corruption of the times, but also the apathy toward that corruption. It is a testament to the process of reform Casey and Thomson hoped would improve the lives of all Alabamians. It is also a volume of strong personal convictions, uncompromised religious beliefs, and a grounded devotion to community--all displayed in the clear, concise prose of two friends driven to change, for the better, the state that they loved.
About the Author
Sam Hodges is the author of B-Four, a novel, and co-editor of Letters to Amanda: the Civil War Letters of Marion Hill Fitzpatrick, Army of Northern Virginia. He is also managing editor of The United Methodist Reporter, based in Dallas, Texas, and has previously served as the religion reporter for the Dallas Morning News, the Washington correspondent for Newhouse News Services, staff writer at the Birmingham Post-Herald and the Orlando Sentinel, and correspondent-at-large for the Mobile Press-Register.Wayne Flynt is a professor emeritus of history at Auburn University and the author of Poor But Proud: Alabama s Poor Whites and Alabama in the Twentieth Century."
Praise For For the Love of Alabama: Journalism by Ron Casey and Bailey Thomson…
"This book ought to be required reading for every legislator, followed by a test to see if they get the point. The last directive should be 'write an essay explaining what you gonna do about it.'"—Harvey Jackson III, author of
Inside Alabama: A Personal History of My State"[For the Love of Alabama]
is a collection of editorials, columns and essays by two of Alabama's most important journalists in the latter part of the 20th century, and that may sell them short. It would be hard to overstate the impact Ron Casey and Bailey Thomson had on public policy in state government. . . . It should go without saying both died decades too early, but what a legacy they left behind. Both were magnificent writers, able to craft a memorable, I-wish-I'd-written-that phrase like the rest of us churn out cliches."—
The Birmingham News
"While the book spans themes including education, race and taxes, it is at its heart a primer on the state's convoluted 1901 Constitution. [Ron Casey and Bailey Thomson] were tireless advocates for constitutional reform, and their writing exposed the deeply rooted connections between the arcane document and the state's chronic problems of corruption, apathy and injustice. Hodges also includes vibrant personal essays from Casey and Thomson that showcase their storytelling skills and celebrate the Alabama they knew and loved."
—Mobile Press-Register
Advertisement