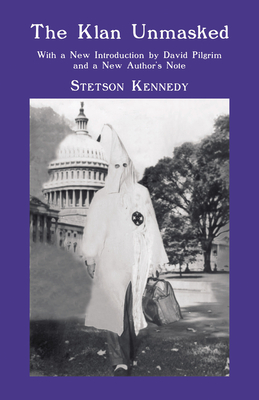 The Klan Unmasked (Paperback)
With a New Introduction by David Pilgrim and a New Author's Note
University Alabama Press, 9780817356743, 302pp.
Publication Date: March 15, 2011
* Individual store prices may vary.
Description
Stetson Kennedy's infiltration and exposure of the KKK.
About the Author
Stetson Kennedy is an award-winning author and human rights activist. Kennedy is also known as a pioneering folklorist, a labor activist, and environmentalist. He is the author of the books: Palmetto Country, Southern Exposure, The Jim Crow Guide, The Klan Unmasked, and After Appomattox.
Praise For The Klan Unmasked: With a New Introduction by David Pilgrim and a New Author's Note…
Normal0falsefalsefalseMicrosoftInternetExplorer4"S tetson Kennedy is our Nation's No. 1 Klan-buster. He has done a painstaking and patriotic job in exposing the KKK. Everyone interested in the future of America should read his book."--Drew Pearson, Washington Merry-Go-Round
"Back in the forties, when the going was very, very rough, Stetson Kennedy was working with me and our Atlanta office, and he infiltrated not just one, but many Klans." --Arnold Forster, general counsel, Anti-Defamation League of B'nai B'rith
"Stetson Kennedy's infiltration and exposure was the greatest single factor in curbing the growth of the post WW II Klan." --Wynn Craig Wade, The Fiery Cross