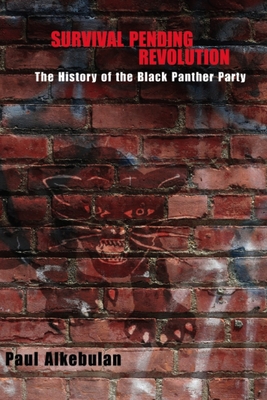 Survival Pending Revolution
The History of the Black Panther Party
Paperback

* Individual store prices may vary.
Description
The Black Panther Party (BPP) seized the attention of America in the frenetic days of the late 1960s when a series of assassinations, discontent with the Vietnam War, and impatience with lingering racial discrimination roiled the United States, particularly its cities. The BPP inspired dread among the American body politic while receiving support from many urban black youths. The images of angry and armed young black radicals in the streets of U.S. cities seemed a stunning reversal and repudiation of the accommodationist and assimilationist black goals associated with Martin Luther King's movement, as well as an unprecedented defiance of the civil power. Although many have written about the BPP in memoirs and polemics, Survival Pending Revolution contributes to a new generation of objective, analytical BPP studies that are sorely needed. Alkebulan displays the entire movement's history: its lofty and even idealistic goals and its in-your-face rhetoric, its strategies, tactics, and the internal divisions and ego clashes, drawing upon public records as well as the memories of both leaders and foot soldiers, to attempt a description that both understands the inner workings of the BPP and its role in the greater society.
Praise For Survival Pending Revolution: The History of the Black Panther Party…
 "In terms of explaining and conceptualizing the importance of shifts in the Black Panther Party's ideology, Survival Pending Revolution is more comprehensive than any other available work on the Black Panthers. . . . [It] deserves a place on any reading list dealing with the history of the 1960s."—Michigan Historical Review
"This useful, concise addition to the scholarly literature on the Black Panther Party divides its history into three different ideological eras and explores the varying tendencies that marked the party between 1966 and 1971. . . . Brief as it is, the book offers encouragement for further serious study of this important chapter in African American history."—CHOICE
"Survival Pending Revolution is a welcome and useful introduction to the history of the Black Panthers. Its brevity makes it an excellent choice for undergraduate courses on African American or twentieth century United States history."—The Journal of African American History
University Alabama Press, 9780817357191, 196pp.
Publication Date: June 15, 2012
About the Author
Paul Alkebulan is a former member of the Black Panther Party and worked at the first free breakfast program for school children in Oakland in 1969. He is Assistant Professor of History at Virginia State University.
or
Not Currently Available for Direct Purchase