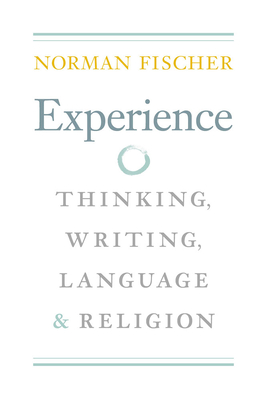 Experience
Thinking, Writing, Language, and Religion (Modern and Contemporary Poetics)
Paperback

* Individual store prices may vary.
Description
By what narrow path is the ineffable silence of Zen cleft by the scratch of a pen? The distilled insights of forty years, Norman Fischer's Experience: Thinking, Writing, Language, and Religion is a collection of essays by Zen master Fischer about experimental writing as a spiritual practice.
 
Raised in a Conservative Jewish family, Fischer embraced the twin practices of Zen Buddhism and innovative poetics in San Francisco in the early 1970s. His work includes original poetry, descriptions of Buddhist practice, translations of the Hebrew psalms, and eclectic writings on a range of topics from Homer to Heidegger to Kabbalah. Both Buddhist priest and participant in avant-garde poetry's Language movement, Fischer has limned the fertile affinities and creative contradictions between Zen and writing, accumulating four decades of rich insights he shares in Experience.
 
Fischer's work has been deeply enriched through his collaborations with leading rabbis, poets, artists, esteemed Zen Buddhist practitioners, Trappist monks, and renowned Buddhist leaders, among them the Dalai Lama. Alone and with others, he has carried on a deep and sustained investigation into the intersection of writing and consciousness as informed by meditation.
 
The essays in this artfully curated collection range across divers, fascinating topics such as time, the Heart Sutra, God in the Hebrew psalms, the supreme "uselessness" of art making, "late work" as a category of poetic appreciation, and the subtle and dubious notion of "religious experience." From the theoretical to the revealingly personal, Fischer's essays, interviews, and notes point toward a dramatic expansion of the sense of religious feeling in writing.
 
Readers who join Fischer on this path in Experience can discover how language is not a description of experience, but rather an experience itself: shifting, indefinite, and essential.
Praise For Experience: Thinking, Writing, Language, and Religion (Modern and Contemporary Poetics)…
"[ . . . } this book is tremendously valuable, no matter what avenue readers approach it through. While the concepts seem esoteric, at root, his poetics and Buddhist practice are deeply ordinary and practical. That tension makes the book so rewarding, as greater coherence unfolds."
—American Microreviews and Interviews

 "Norman Fischer's Experience is the fruit of a life's work in Zen (and other religious practice) as well as in poetry. It is mature, syncretic, wide-ranging, and open-hearted. Fischer is able to find common ground between Judeo-Christian and Buddhist beliefs or between Zen and the writing life without eliding the differences and contradictions. When he says that, in a certain type of Zen meditation, 'you allow the phrases to come forward to you as if they were alive,' I (as a poet) know precisely what that means. In these essays, Fischer accomplishes it."
—Rae Armantrout, author of Versed, Just Saying, and Itself

"If only I had practiced a Buddhist form of meditation during my lifetime,
then I might not need this book so badly.
If only I had been educated by Norman Fischer.
If only I understood before what I understand now,
after reading Experience.
If only I had studied Dogen.
If only I could have such calm as is provided in these pages.
 
If only, if only!
 
Now I can carry the book around with me.
And at least I can give it to young friends.
But really and truly, I wish I had had this book before."
—Fanny Howe, author of Second Childhood and The Winter Sun: Notes on a Vocation


"Experience is not so much criticism or polemic as it is a guide to living one's life inside and outside of poetry, and of making that life consonant with one's art."
—Susan M. Schultz, author of A Poetics of Impasse in Modern and Contemporary Poetry and editor of The Tribe of John: Ashbery and Contemporary Poetry
University Alabama Press, 9780817358280, 348pp.
Publication Date: December 20, 2015
About the Author
Norman Fischer is a former abbot of the San Francisco Zen Center and the founder of the Everyday Zen Foundation. He is the author of twenty books of poetry, criticism, and theology, among them the poetry collections The Strugglers, I Was Blown Back, Success, and Questions/Places/Voices/Seasons and the prose works Training in Compassion: Zen Teachings on the Practice of Lojong, Sailing Home: Using Homer's "Odyssey" to Navigate Life's Perils and Pitfalls, Opening to You: Zen-Inspired Translations of the Psalms, and Taking Our Places: The Buddhist Path to Truly Growing Up.

or
Not Currently Available for Direct Purchase