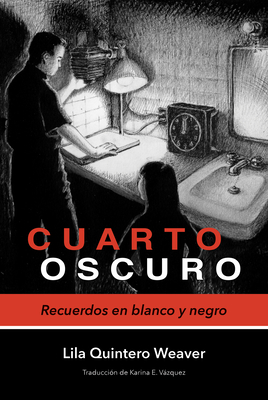 Cuarto oscuro
Recuerdos en blanco y negro
Paperback

* Individual store prices may vary.
Description
A visually stunning graphic memoir of an Argentinian immigrant's experience during the civil rights movement.

Cuarto oscuro: Recuerdos en blanco y negro is the long-awaited Spanish-language translation of Lila Quintero Weaver's critically acclaimed Darkroom: A Memoir in Black and White. An arresting and moving memoir about childhood, race, ethnicity, and identity in the American South, Cuarto oscuro is animated by Weaver's stunning illustrations. Her drawings are visually understated but striking and dramatically embolden her heartfelt storytelling.
 
In 1961, when the author was five, she emigrated with her family from Buenos Aires, Argentina, to Marion, Alabama, located in the heart of Alabama's Black Belt. As educated, middle-class Latino immigrants in a region that was defined by segregation, the Quinteros occupied a privileged vantage from which to view the racially charged culture they inhabited. Weaver and her family were firsthand witnesses to key moments in the civil rights movement.
 
Weaver chronicles what it was like being a Latina girl in the Jim Crow South, struggling to understand both a foreign country and the horrors of our nation's race relations. Weaver, who was neither black nor white, observed very early on the inequalities in American culture with its blond-haired and blue-eyed feminine ideal. Throughout her life, Weaver struggled to find her place in this society and fought against the discrimination around her. Cuarto oscuro is her testament, in words and images, to that struggle. This personal and historic account is translated into Spanish by Karina Elizabeth Vázquez.
Praise For Cuarto oscuro: Recuerdos en blanco y negro…
Praise for the English edition

"A vivid, insightful, and moving illustrated graphic memoir by Weaver. . . . In beautiful gray-shaded drawings, Weaver depicts the reality of the segregated and newly integrated South and her struggle to position herself as an ally to her black classmates, only to find that it's a path fraught with pitfalls from both sides of the divide."
—Publishers Weekly

"A truly incredible look at the civil rights movement. Darkroom offers a double view of that movement. A gem."
—Nikki Giovanni, author of Gemini: An Extended Autobiographical Statement on My First Twenty-Five Years of Being Black Poet and On My Journey Now: Looking at African-American History Through the Spirituals

"From the moment I began Darkroom, I felt enveloped and embraced by its drama, tenderness, wit, and wonderful art. It is a visually powerful work whose narrative flow carried me along effortlessly."
—Howard Cruse, author of Stuck Rubber Baby
University Alabama Press, 9780817359072, 264pp.
Publication Date: January 9, 2018
About the Author
Lila Quintero Weaver is the author and illustrator of Darkroom: A Memoir in Black and White and an upcoming children's novel. She has lived in Alabama for most of her life. Since publishing Darkroom, she has spoken and lectured widely about her work at colleges and universities across the United States.
 
Karina Elizabeth Vázquez received her doctorate in Latin American literature from the University of Florida and currently teaches at University of Richmond in Virginia. She is the author of Fogwill: Realismo y mala conciencia and Aprendices, obreros y fabriqueras: el trabajo industrial en la narrativa argentina del siglo XX, and the coeditor of Insomne pasado: lecturas críticas sobre Latinoamérica colonial.
or
Not Currently Available for Direct Purchase