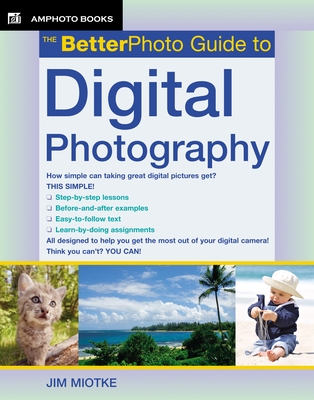 The Betterphoto Guide to Digital Photography (Paperback)
Amphoto Books, 9780817435523, 224pp.
Publication Date: June 1, 2005
Description
Digital cameras are the hot new tech toy-but many of the millions of people who are buying the cameras aren't getting the most out of their new purchase. Mysterious icons, strange jargon, a dizzying array of imaging software and hardware...stumbling blocks quickly become tools to create great pictures with The BetterPhoto Guide to Digital Photography. This practical, lesson-based workbook gives readers a step-by-step tutorial in getting bright, crisp, beautiful pictures from their digital cameras every time. Learn about exposure, file formats and quality settings, low-light photography, digital filters and white balance, composition and lens choice, manipulating images, printing, and much more, all in a handy, bring-along format. Everyone who has a digital camera-or who is thinking about getting one-needs The BetterPhoto Guide to Digital Photography
About the Author
Jim Miotke is the founder of BetterPhoto.com, an online photography resource that receives more than three million hits each month. An online instructor for the site's course on digital photography, Jim Miotke is also a professional photographer with more than twenty years' experience. He lives in Redmond, Washington.
Advertisement