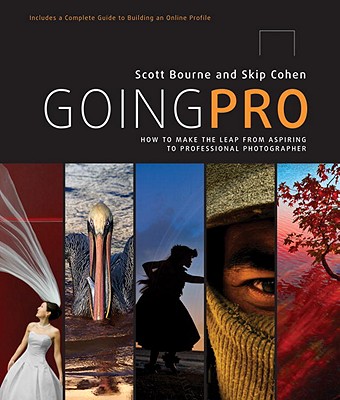 Going Pro: How to Make the Leap from Aspiring to Professional Photographer (Paperback)
How to Make the Leap from Aspiring to Professional Photographer
Amphoto Books, 9780817435790, 240pp.
Publication Date: October 18, 2011
* Individual store prices may vary.
or
Not Currently Available for Direct Purchase
Description
The essential guide to starting a successful career in any genre of professional photography. You've got the gear, the training, and the technology. You're ready to make the leap from aspiring to professional photographer. Now what? With today's affordable, high-quality cameras, Internet technology, and training, any weekend warrior can hang a shingle and open a photography business. But what then? While anyone can buy a professional quality camera, few have the skills to turn their dreams into a profitable business. Going Pro is the essential guide to leaping successfully into any genre of professional photography. Industry powerhouses Scott Bourne and Skip Cohen share invaluable advice on defining your niche, putting together a portfolio, pricing and showing your work, marketing, positioning your brand, and, most important, building an online social media platform from the ground up. Throughout, advice and tips are offered from 25 of the biggest names in the industry, including Chase Jarvis, Vincent Laforet, Matthew Jordan Smith, Jeremy Cowart, Jules Bianchi, Bambi Cantrell, Tony Corbell, Kevin Kubota, Jerry Ghionis, and more. Hundreds of thousands of photographers are already tuning in to the Going Pro podcast and blog (goingpro2011.com). Going Pro, the book, now joins the movement, giving amateurs everywhere the confidence and tools they need to make the leap into professional photography.
About the Author
SCOTT BOURNE is president and founder of Bourne Media Group, publisher of Photofocus.com, and the #1 most influential photographer on Twitter, according to wefollow.com. His images have received more than 100 awards, and he has led more than 150 workshops and seminars worldwide. Scott is co-founder of The Professional Wedding & Studio Photographers International (PWSPI) and GoingPro2011. He has been featured in numerous publications, including Photo District News (PDN), PPA Magazine, Outdoor Photographer, and PhotoMedia. Scott can be found at photofocus.com. SKIP COHEN is president of Marketing Essentials International, a consulting firm specializing in photography projects. He is past president of Rangefinder Publishing Inc., where he oversaw Rangefinder and AfterCapture magazines, the Wedding and Portrait Photographers International (WPPI) Association, and the WPPI trade show. He is founder of Skip's Summer School and the Akron Photo Series, and co-founder of GhostRighters.com, GoingPro2011.com, and PWSPI. Skip has co-authored five previous books on photography and can be found at SkipsPhotoNetwork.com.
Advertisement