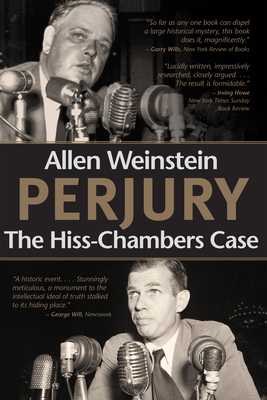 Perjury
The Hiss-Chambers Case
Paperback

* Individual store prices may vary.
Description
Although almost a half-century has passed since the jury at Alger Hiss's second trial pronounced him guilty of perjury, the case remains controversial and the verdict leaves questions unanswered. The case has continued to make headlines and attract considerable media attention in the years since Perjury was first published in 1978, and this new edition of the book incorporates evidence available only in the past two decades, bringing the essential public story of the episode up to the present. The author has sought and gained access to many previously undiscovered, unavailable, or ignored sources of documentary and oral evidence, both in this country and abroad. His visits to over two dozen public archives uncovered important new material and verified numerous details about the case from the papers or recollections of Allen Dulles, John Foster Dulles, Felix Frankfurter, Richard Nixon, Harry S. Truman, and many others.
The Hiss-Chambers case caused widespread political damage and much human suffering. Although nothing written at a distance of almost five decades can undo its effects, this analysis can perhaps explain the passion that the case still arouses.
Praise For Perjury: The Hiss-Chambers Case…
"So far as any one book can dispel a large historical mystery, this book does it, magnificently."
-- Garry Wills, New York Review of Books
"Lucidly written, impressively researched, closely argued... The result is formidable."
-- Irving Howe, New York Times Sunday Book Review
 "A historic event... Stunningly meticulous, a monument to the intellectual ideal of truth stalked to its hiding place."
-- George Will, Newsweek
"The definitive account."
-- Reader's Catalog
"The most exciting piece of history in recent memory."
-- William F. Buckley
"The most objective and convincing account we have of the most dramatic court case of the century."
-- Arthur Schlesinger, Jr.
"[Weinstein] has gone as far as any historian could to establish the formal validity of the verdict... His treatment of the resulting material strikes one as both judicious and properly skeptical; he writes of it with clarity and restraint. ...Weinstein's contribution, then, is major and I would say definitive."
-- John Kenneth Galbraith
"Impressive... [Weinstein] makes persuasive use of this material in a narrative that is lucid, dramatic and even handed."
-- Robert Kirsch, Los Angeles Times Book Review
Hoover Institution Press, 9780817912253, 766pp.
Publication Date: April 15, 2013
About the Author
Allen Weinstein served as archivist of the United States from 2005 to 2009. From 1985 to 2003 he was president of the Center for Democracy, a Washington-based nonprofit foundation that he helped found in 1985. Weinstein's international awards include the United Nations Peace Medal in 1986 and the Council of Europe's Silver Medal, both in 1990 and in 1996.
or
Not Currently Available for Direct Purchase