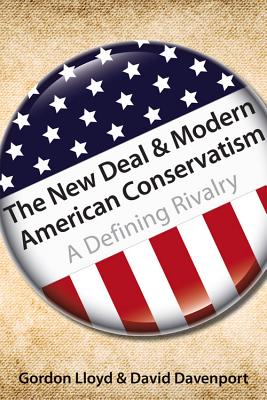 The New Deal & Modern American Conservatism (Hardcover)
A Defining Rivalry
Hoover Institution Press, 9780817916848, 135pp.
Publication Date: October 1, 2013
* Individual store prices may vary.
Description
Providing an often-overlooked historical perspective, Gordon Lloyd and David Davenport show how the New Deal of the 1930s established the framework for today's U.S. domestic policy and the ongoing debate between progressives and conservatives. They examine the pivotal issues of the dispute, laying out the progressive-conservative arguments between Hoover and Roosevelt in the 1930s and illustrating how those issues remain current in public policy today. The authors detail how Hoover, alarmed by the excesses of the New Deal, pointed to the ideas that would constitute modern U.S. conservatism and how three pillars—liberty, limited government, and constitutionalism—formed his case against the New Deal and, in turn, became the underlying philosophy of conservatism today. Illustrating how the debates between Franklin Roosevelt and Herbert Hoover were conducted much like the campaign rhetoric of liberals and conservatives in 2012, Lloyd and Davenport assert that conservatives must, to be a viable part of the national conversation, "go back to come back"—because our history contains signposts for the way forward.
About the Author
Gordon Lloyd is a professor of public policy at the School of Public Policy at Pepperdine University. He also serves on the National Advisory Council for the Walter and Leonore Annenberg Presidential Learning Center through the Ronald Reagan Presidential Foundation. He lives in Malibu, California. David Davenport is counselor to the director and a research fellow at the Hoover Institution. He is a columnist for Forbes.com and the San Francisco Chronicle and delivers regular radio commentaries on the Salem Radio Network and Townhall.com, where he is a contributing editor. From 1985 to 2000, he served as president of Pepperdine University, where he was also a professor of public policy and law.
Praise For The New Deal & Modern American Conservatism: A Defining Rivalry…
"This path-breaking work should persuade all Americans to rethink the roots of our current political order. It is a must read to understand how we got to where we are today."  —Edwin J. Feulner, PhD, founder and retired president, Heritage Foundation


"A refreshing read, Lloyd and Davenport illustrate the relevance of Hoover's arguments to contemporary economic and political discourse."  —Margaret Hoover, author,
American Individualism: How a New Generation of Conservatives Can Save the Republican Party
"As scholars and partisans of the Left and Right ponder the future of conservatism, they will benefit greatly from an unblinkered tour of the ideological landscape (past and present) mapped out in this timely and illuminating book."  —George H. Nash, author, The Conservative Intellectual Movement in America since 1945
"This is essential reading for conservatives seeking to establish a meaningful role for themselves in today's national conversation."  —Joseph Postell, assistant professor of political science, University of Colorado–Colorado Springs
or
Not Currently Available for Direct Purchase