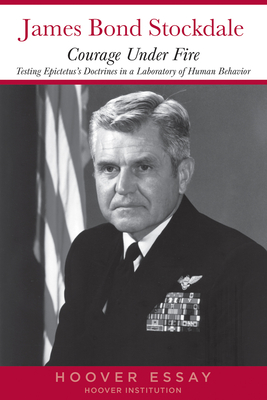 Courage Under Fire
Testing Epictetus's Doctrines in a Laboratory of Human Behavior
Paperback

* Individual store prices may vary.
Description
When physical disability from combat wounds brought about Jim Stockdale's early retirement from military life, he had the distinction of being the only three-star officer in the history of the navy to wear both aviator wings and the Congressional Medal of Honor. His writings have been many and varied, but all converge on the central theme of how man can rise with dignity to prevail in the face of adversity.
Hoover Institution Press, 9780817936921, 32pp.
Publication Date: December 1, 1993
About the Author
Vice Admiral James Stockdale, a senior research fellow at the Hoover Institution, served in the navy from 1947 to 1979, beginning as a test pilot and instructor at Patuxent River, Maryland, and spending two years as a graduate student at Stanford University. He became a fighter pilot and was shot down on his second combat tour over North Vietnam, becoming a prisoner of war for eight years, four in solitary confinement. The highest-ranking naval officer held during the Vietnam War, he was tortured fifteen times and put in leg irons for two years. His books include Thoughts of a Philosophical Fighter Pilot (1995, Hoover Institution Press) and In Love and War (second revised and updated edition, 1990, U.S. Naval Institute Press), coauthored with his wife, Sybil. In early 1987, a dramatic presentation of In Love and War was viewed by more than 45 million viewers on NBC television.